MARTHA HIGH
Nothing's Going Wrong
Blind Faith Records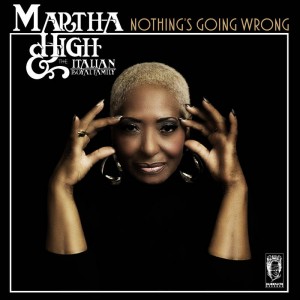 Nul n'est prophète en son pays et ce n'est pas Martha High qui démentira ce vieil adage puisqu'elle a décidé , après des années passées aux côtés de James Brown, de poser ses valises en Italie et plus précisément à Rome. Ce choix ne semble pas fortuit puisqu'il semblerait que l'Italie soit une terre d'accueil idéale pour les artistes Soul. Citons Michael Allen ex-membre du groupe Kilo qui enregistra chez Stax en 1979 ou encore la chanteuse Lisa Hunt (pour ne citer qu'eux deux)
Ils y trouvent, comme ce fut le cas pour le regretté Willie Walker avec Groove City, de solides musiciens ainsi que de redoutables sections de cuivres connaissant jusqu'au bout de leurs anches l'art du riff acéré et musclé. C'est ainsi qu'elle rencontre le producteur Luca Sapio et le groupe The Italian Royal Family et enregistre cet album, comme le précédent Singing For The Good Time , dans leur studio analogique. Cette particularité qui peut sembler incongrue en ces temps actuels confère à l'ensemble un son moelleux moins mécanique que son homologue numérique.
Luca Sapio a écrit , composé, arrangé et mixé la totalité de cet album qui ne comporte que des inédits alors que la solution de facilité aurait consisté à déverser une série de reprises browniennes.
A l'instar d"illustres prédécesseurs qui surent par le passé reprendre des codes usés comme ce fut le cas dans le cinéma avec les exemples du western ou du fantastique Sapio se les réapproprie pour en faire un style personnel. C'est ainsi que l'intro de Face The New Future ressemble à du Ennio Morricone qui aboutirait sur de la blaxploitation façon Isaac Hayes, que les arrangements de Stop Get Off My Back et de Land of Broken Promises sont furieusement seventies. Ces écrins qui ressemblent à des musiques de films sont servis par la puissante voix de Martha High qui démontre qu'a 75 ans que la vieillesse n'est pas nécessairement un naufrage. Devrait être un des albums de l'année.
FRANK BEY
All My Dues Are Paid
Nola Blue Records NB010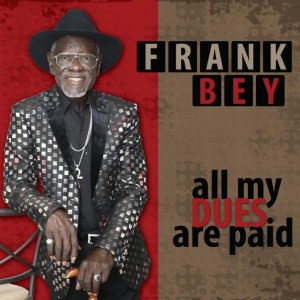 Il a commencé sa carrière en assurant les premières parties d'Otis Redding dont il aurait beaucoup appris sur la manière de capturer l'audience d'un public.
Il a formé un groupe Moorish Vanguard dont le contrat d'enregistrement aurait capoté,d'après ses dires de la faute de James Brown.
S'en suivit un long silence de dix sept ans (peut être dû aussi à de probables problèmes de santé rénaux) et pour enfin le voir faire un retour remarqué en 2015 sur la scène du Porretta Soul Festival en compagnie d'Anthony Paule.
Cet album, le deuxième pour le label Nola Blue, est quelque peu déconcertant au premier abord par l'éclectisme de son propos en décalage avec ce qu'il avait proposé précédemment. C'est ainsi que Idle Hands reprise du titre d'Eddie Palmieri et Harlem River Drive ouvre une session qui sera essentiellement composée de reprises dont l'une des rares exceptions sera celle de l' autobiographique All My Dues Are Paid où il semble régler ses comptes avec certaines critiques. Les sources d'inspiration sont aussi diverses que variées puisque figurent côte à côte un classique de country music He Stopped Loving Her Today, le jazzy très années quarante I'll Bet I'll Never Cross Your Mind où l'on sent qu'il atteint les limites de son potentiel vocal . Un hommage particulier est rendu àPercy Mayfield avec le rock 'n roll de Never No More qui donne l'opportunité à l'orchestre de se défouler dans une superbe partie instrumentale et Ha Ha In The Daytime écrit à l'époque où il collaborait avec Ray Charles.
Et puis, enfin pourquoi conclure avec une énième reprise d' Imagine de John Lennon qui n'apporte pas grand chose à l'auditeur si ce n'est que de lui donner quelque chose de familier à écouter?
Jean-Claude Morlot