The 4th International Soul Festival
The 4th International Soul Festival.
At The Winter Gardens Blackpool UK.
Friday 14 June - Sunday 16 June 2019.
Report by Dave Thomas who was with Jean-Claude Morlot.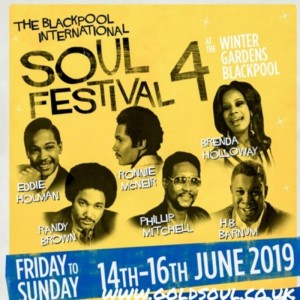 This years festival held at The Winter Gardens Blackpool clicked into action with 6 rooms of various versions of Soul Music, ranging from Connoisseurs 60's & 70's Heaven, Soulful Dance & Modern Soul, through to the biggest Northern & Motown Memories in the Empress Ballroom. The main reason for myself and Jean-Claude's attendance was to see the live music which was presented in the Empress Ballroom, which is a Grade II listed building, built in 1896, with a capacity to hold a 3,000 audience.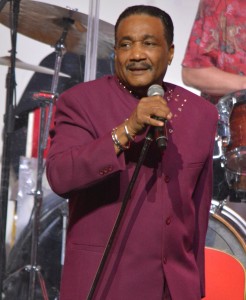 I must say it seemed like there was 3,000 people in the venue to watch the opening act from Memphis, Randy Brown who started his career as lead singer for Stax recording artists The Newcomers along with his brother Bertram, who travelled to Blackpool with his brother to sing backing vocals. Their other brother was William Brown III of the Mad Lads. I was eagerly waiting to see Randy, as I had never seen before so it was delight when Randy stepped on stage looking elegant in a mauve coloured suit. Randy only got to do three songs "I Was Blessed (The Day I Found You)", "I'd Rather Hurt Myself" and "I'm Always In The Mood". Randy who to me has always been underrated has a great voice and he certainly proved it with his sublime delivery. The Snake Davis Band & The Suspicions & Bertram Brown did a great job behind Randy as he showed the Soul world what a great performer he is, with this great short set. My only complaint is the set should have been longer. Randy is the finest Memphis singer who has never sung at the Porretta Soul Festival in Italy.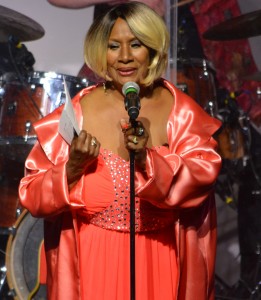 Motown Recording artist Brenda Holloway was the next artist and thankfully Brenda did a much longer set. Brenda wearing a reddish dress & gown got her performance under way with "I'll Be Available", "When I'm Gone" a personal favourite of mine from Brenda's catalogue. Brenda who I have seen three times previously was in great voice as she carried on with "He's My Kind of Fella", "Every Little Bit Hurts" and "You Kept On Hurting Me". Brenda seemed to be enjoying herself on stage and with her best Dusty Springfield hairdo, she carried on with "How Many Times Did You Mean It". The audience were certainly enjoying the show as Brenda launched into "Reconsider" and ending her very good set with "You Made Me So Very Happy", the record she wrote and which went on to be a massive worldwide hit for Blood Sweat & Tears. Sadly that brought the live music to a close, but it was not the end as the music for dancers in some of the different rooms did not finish until 4.00 am.
Saturday began with the showing of a film in the Opera House , Bang! The Bert Berns Story. I must say it is a very good film with lots of Soul artists appearing in it.
After a half hour break there was an audience with H.B. Barnum, and it was a fascinating incite to his involvement with Aretha Franklin and Capitol Records. H.B. Barnum has worked with Frank Sinatra, Lou Rawls, Etta James, Little Richard, Gladys Knight, Count Basie. He spent 25 years as Aretha Franklin's music director along with the many artists he has worked with for over 50 years.
Saturday evening seemed like there was even more people in the Empress Ballroom to see the opening act, who is currently a member of The Four Tops, who replaced Levi Stubbs in the Four Tops in 1999, 20 years ago, Ronnie McNeir. "Isn't She A Pretty Girl" got the show underway, followed by "Hold On To The Dream". Ronnie wearing a white silky jacket looked good and his melodic honey toned tenor voice was superb on "Just Ask The Lonely" indulging us to something from his Four Tops career. Ronnie had the audience fully with him on his Northern hit song "Sitting In My Class". At the end of his set Richard Searling came on to admit he forgot to get Ronnie & The band to perform "Wendy Is Gone", but Ronnie always inventive came back on jump on the keyboards and did an improvised version of "Wendy Is Gone" to great applause from the crowd.
The next artist should have been Prince Phillip Mitchell, but sadly he was unwell a week before the show and was under Doctor's orders not to travel. Snake Davis did a couple instrumentals of Phillip's songs "Home Is Where The Heart Is" a song Phillip wrote for Bobby Womack. Snake also did "I'm So Happy" and the words where displayed on screen so everybody could sing along to, I am so glad to report everybody did join in.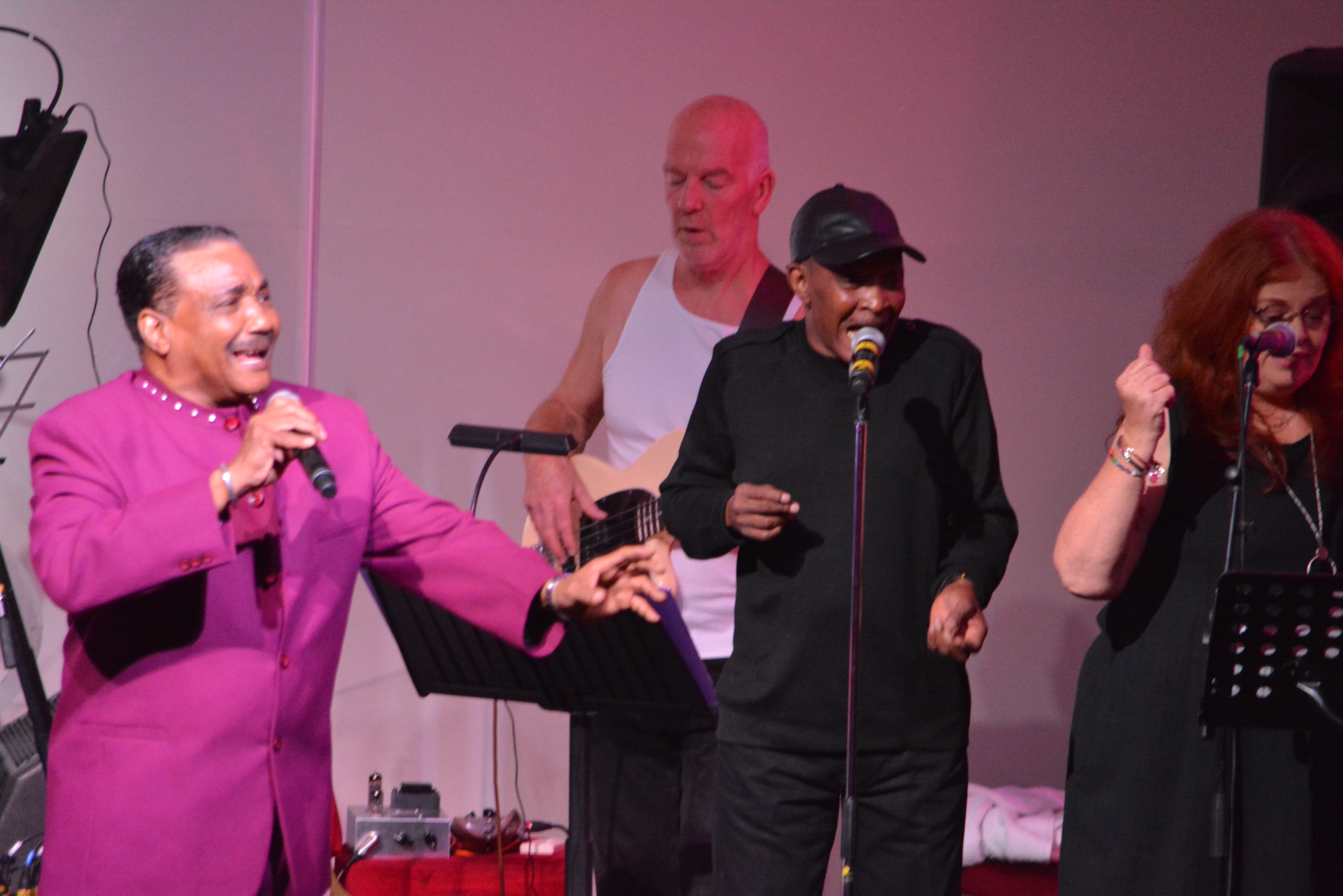 Next we got a reprise of the night before with Randy Brown & his brother Bertram on stage to give another performance of his excellent "I'm Always In The Mood", what can I say it was magical, Randy's wonderful soulful vocals were great on this Homer Banks/Carl Hampton song. Well done Richard Searling for bringing him back for this wonderful song to be heard again.
Brenda Holloway also came back to perform my favourite of her's "When I'm Gone" and also her "You Made Me So Very Happy". Brenda dressed in an all white one piece trouser onesies with big petal like piece on her arms and a curly hair style looked stunning and sounded very good as well.
The final act of the day was Eddie Holman who did a terrific set, Eddie was full of bravado as he stepped on stage in a red shiny suit topped off with a white hat. We had the Northern Soul classic "I Surrender" and "She's Wanted (In 3 States)" in Eddie's 40 minute set. Eddie kept telling us how good he was and how he had the best falsetto voice in the world and who am I to argue with Eddie. Eddie who is an ordained Baptist minister and at 73 looks younger, also did "Where I'm Not Wanted" & "This Will Be A Night To Remember". But I suppose the highlight of the set was "Hey There Lonely Girl". I have to say it is amazing how he gets that falsetto voice around "I Surrender" & "Hey There Lonely Girl" A terrific set to end the night.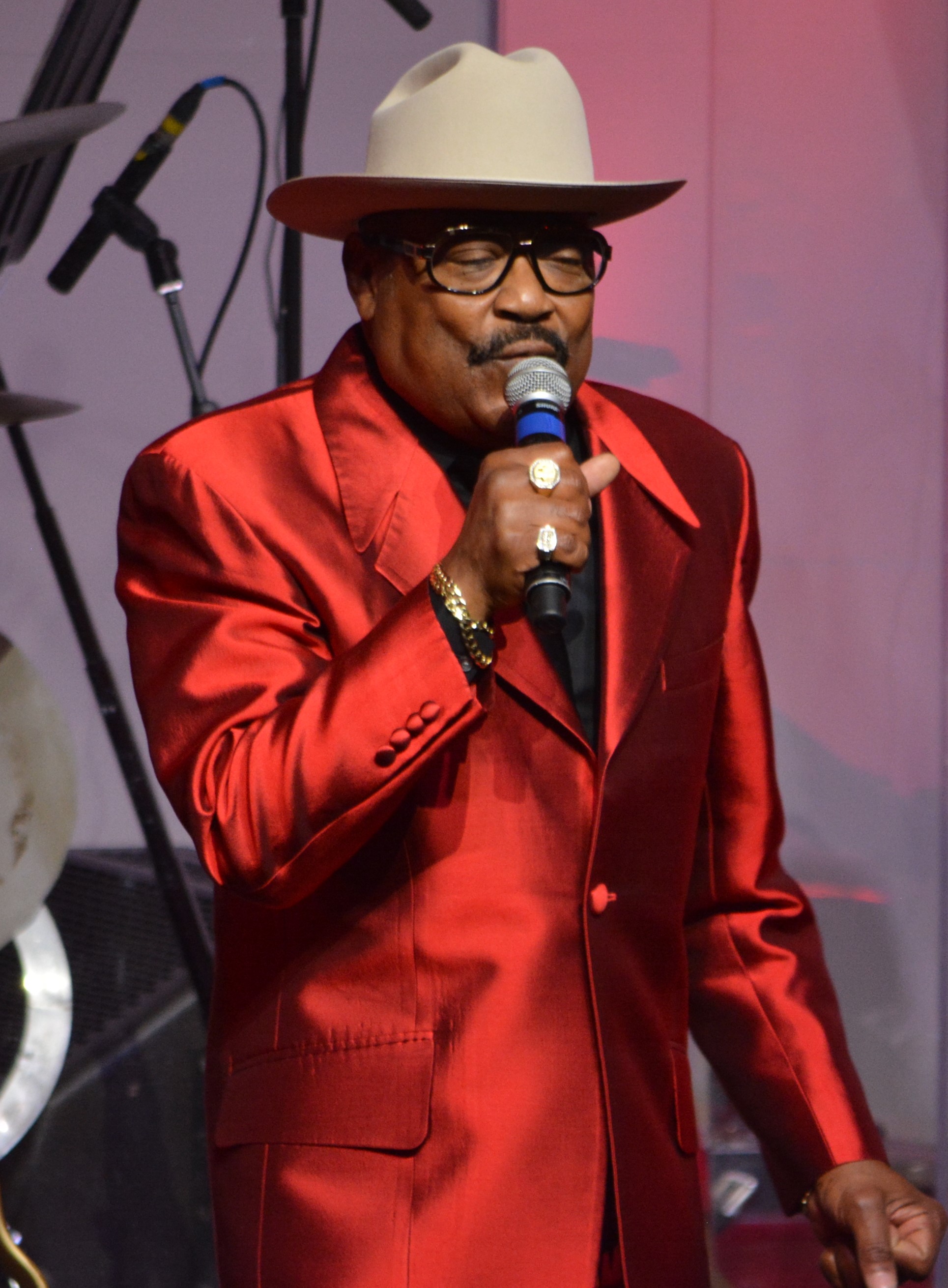 All in all I must thank everybody involved with this years show, as it was a great success, just the one complaint please please give a bit more time to some of the acts, although to be fair it was only Randy Brown's set that was way to short.