The Lost Tapes
Cette nouvelle rubrique sera consacrée aux nombreuses vidéos qui ont fait la gloire de nos soirées VHS.
Alors commençons avec cette première Fête de la Musique en 1982. TF1 n'était pas encore privatisée et la diffusait à une heure de grande écoute.
Pour cette inauguration, le lieu devait être prestigieux et ce fut l'esplanade du Trocadéro qui fut choisie. Alors qu'il n'y avait eu qu'un bouche à oreille, l'endroit et les bassins alentours étaient noir de monde.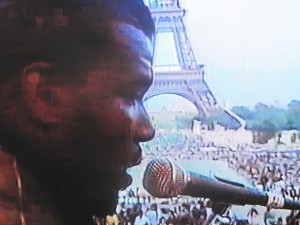 Et ce fut la surprise car le funk était au rendez vous avec le collectif Shango qui regroupait Afrika Bambaataa, alors résident de la capitale, Bernard Fowler (background singer sur l'album Future Shock d'Herbie Hancock et soliste sur le Future Shock Tour),le présentateur Sidney alors que la rythmique et les percussions étaient assurées par Toure Kunda.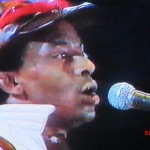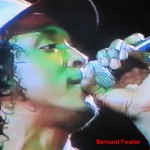 Les titres interprétés furent Socca Fever, Shango Message, Thank You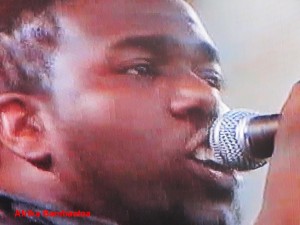 Pour des raisons de droits seules des copies d'écran figurent ici
Jean-Claude Morlot
Toujours sur TF1 encore chaine publique diffusion en "prime time" d'une émission consacrée au MIDEM en 1983.
Les artistes Total Experience Records (Gap Band, Yarbrough & Peoples, Goodie) étaient en tournée promotionnelle européenne et se produisirent au Palace le 3 Février.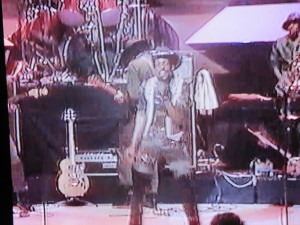 A Cannes, seul le Gap Band était présent avec son leader Charles Wilson en formation compléte avec section de cuivres et choristes (ce qui ne sera plus le cas plus tard lorsque la formation sera réduite au trio des frères Charlie, Ronnie et Robert Wilson).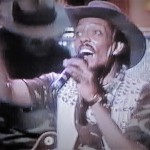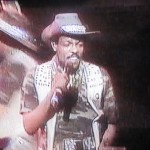 Titres diffusés : Early In The Morning, I Don't Believe You Want To Get Up And Dance "Oops".
Evelyn "Champagne" King forte du succès planétaire de Shame était de la même soirée et fit découvrir outre ses qualités vocales sont talent de percussionniste aux bongos.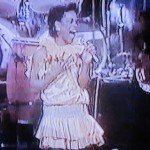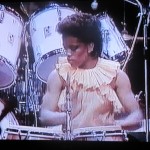 C'est au Midem 1987(diffusé en prime time par TF1 non encore privatisée) que Rose Royce fit une apparition en France (si ce n'est la seule alors que le groupe tournait régulièrement en Angleterre).
Le succès de Car Wash en 1975 n'est certainement pas étranger à la présence du groupe dans l'enceinte prestigieuse du Palais des festival de Cannes et ce sera le titre d'ouverture d'un mini récital d'une vingtaine de minutes où on pourra reconnaitre I Wanna Get Next To you et Wishing On A Star et Do Your Dance
On retrouve Dans le line up le pilier Kenny Copeland alors que la chanteuse est Ricci Benson (ici en photo)
Le reste de l'émission consistait en un récital d'Al Jarreau et de James Brown alors en pleine gloire de Living In America
Jean-Claude Morlot