WILLIE HIGHTOWER
Out Of The Blue
Ace CDCHD 1520/ CHD 1520 (LP)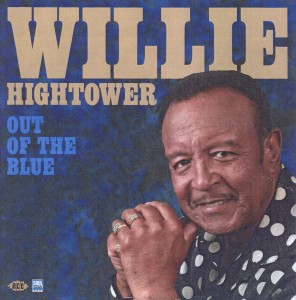 Willie Hightower avait fait impression à Porretta l'an passé et plus particulièrement lors de son ultime prestation à Vergato. Tony Rounce de Ace records était présent et ne tarissait pas d'éloges sur ce chanteur qui aussi bizarre que cela puisse paraître demeure injustement méconnu. Ace a acquis en toute logique les droits de ces dix titres produits dans les studios de Muscle Shoals par le presque centenaire, puisque né en 1921, et légendaire Quinton Claunch.
Classicisme absolu d'une soul sudiste intemporelle, nous serions, s' il n'y avait le copyright, en droit de penser que tout ceci a été enregistré dans les années 70. Sans nostalgie ou revival rétro, ce recueil est composé essentiellement d'une suite de ballades mises en valeur par une vois feutrée, chaleureuse et agréablement soutenue par une section de cuivres aussi discrète qu'efficace.
Du grand art.
Jean-Claude Morlot