THE MAGIC BONES
Shake Your Bones
Autoproduit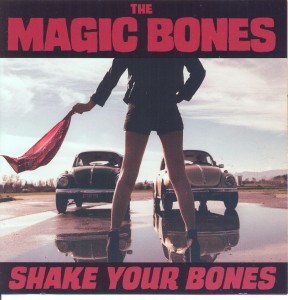 Agréable découverte que celle de ce groupe italien emmené par le chanteur/guitariste Emiliano De Gli'Innocenti et qui propose un blues/rock brut de décoffrage enregistré « live » en studio. A l'exception de trois titres originaux dont celui de l'album le recueil ne comporte que des reprises dans des versions originales. La voix âpre et rugueuse se prête aisément à celle de Mohair Sam (Charlie Rich), de Te Ni Nee Ni Nu (Slim Harpo) soutenue par les interventions pertinentes de l'harmoniciste Marcos Coll ou encore du classique de Bo Diddley I Can Tell interprété à la manière de Johnny Kidd & The pirates.
Une mention particulière pour sa relecture funky et pour le moins surprenante de la mélodie Imagine de John Lennon soutenue par une slide guitare efficace.
A noter la présence de Guitar Crusher au chant sur le dernier titre I Don't Need No Doctor.
Jean-Claude Morlot