La soirée de Vendredi commença avec le guitariste californien Chris Cain. Son jeu est subtil et volubile et c'est tout naturellement qu'il livra un set au style blues bien marqué. C'est ainsi que Going Back To Memphis fut suivi de classiques tels que Sweet Sixteen ou Let's Have A Ball qui n'aurait pas déplu à Albert King. La seule ombre à cette démonstration est que certains aficionados italiens se sont plaints qu'ils ne venaient pas à Porretta pour écouter du blues. Je laisse à chacun la responsabilité des propos tenus.
Sax Gordon rejoint ensuite, après un long intermède, l'orchestre d'Anthony Paule pour l'instrumental Soul Fingers et chanter Somebody in This World For You. L'un des choristes Larry Batiste enchaîna avec Don't Knock My Love et Let's Stay Together.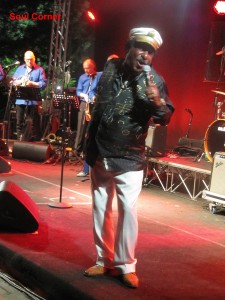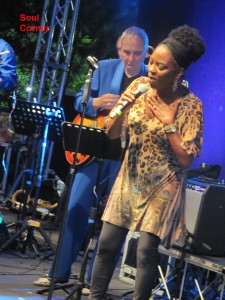 Booker Brown venait pour la première fois en Europe et ce fut une agréable surprise que de découvrir ce chanteur dans la tradition de ses aînés O.V. Wright et Bobby Bland auquel il rendit hommage avec une poignante version de I'll Take Care Of You. On ne peut que regretter que le set très intense qui se termina avec Stir It Up n'ait été aussi court.
C'est avec Ace Of Spades que la jeune new yorkaise Missy Andersen prit possession de la scène . S'ensuivit Stand By Me pour terminer par un torride Higher & Higher.
Willie Walker est un habitué des lieux puisque compagnon de route du Anthony Paule Band. Ce vétéran originaire de Memphis commença par quelques classiques I Won't Cheat You No More, Second Chance qu'il enregistra pour le label Goldwax ainsi que de son nouveau CD (Hate Take A Holiday) pour terminer avec Your Good Thing Is About To End.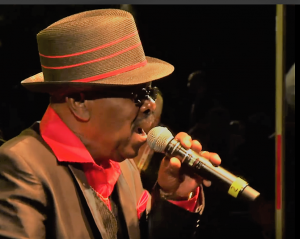 Terri Odabi qui n'est pas non plus une inconnue en ces lieux commença avec une version jazzy de Wade In The Water et après un hommage à Denise LaSalle continua avec Gentrefication Blues pour terminer avec Stand By Me.John Ellison est mondialement connu pour avoir écrit alors qu'il était avec le groupe Soul Brother Six le titre ayant fait l'objet du plus grand nombre de reprises Some Kind Of Wonderful. Et c'est tout naturellement avec qu'il fit son entrée et enchaîna avec Thank You Baby For Loving Me pour continuer avec I'll Be loving You qui est la face B du single original où figure Some Kind.. ! I démontra ensuite sa puissance vocale avec What Can You Do (When You Ain't Got Nobody) alors que l'uptempo Get On Love Life . lui donna l'occasion de faire participer le public.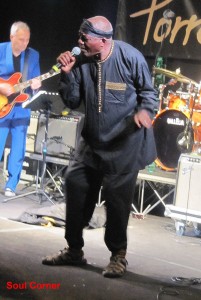 Texte et Photos Soul Corner : Jean-Claude Morlot