Les orchestres d'université sont une bénédiction pour les programmateurs de festivals car leur participation est la plupart du temps à titre gracieux. C'est ainsi que les australiennes de Sweethearts viennent régulièrement à Porretta. Les jeunes filles grandissant le line-up change alors que le répertoire digne des Commitments reste lui inchangé (I Can't Turn You Loose, Shake, Cold Sweat…).C'est gentil, c'est frais mais reste toutefois limite vocalement dans un set d'une heure qu'on aurait souhaité plus court. On pourra toutefois signaler la présence sporadique et amicale de Sax Gordon et de Bernard Purdie qui contribuèrent à relever le niveau.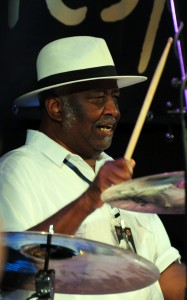 Mais ce qui est pour le moins surprenant en les voyant est qu'on pourrait croire que l'Australie est un pays peuplé uniquement de caucasiens. Alors que le film The Sapphires leur était consacré, on pourrait légitiment se poser la question de l'absence d'aborigènes au sein de cette formation.
Suit le Gaudats Junk Band et une expérience écologique pour le moins originale car tous les instruments ne sont pas traditionnels puisque construits à l'initiative de Daniele Gaudats à partir de produits de récupération. C'est ainsi que la batterie a été fabriquée avec des barils de lessive recyclés (publicité gratuite pour Dash!!), la trompette est un entonnoir et ainsi de suite.. Le présentateur du festival Rick Hutton est à l'origine du projet et semble s'en donner à cœur joie dans ses interprétations très british de Proud Mary, Hard To Handle, Kiss et Land of Thousand Dances qu'il semble affectionné particulièrement puisqu'il l'a déjà enregistré avec Groove City.
le plus surprenant, vu l'incongruité de la chose, est que l'ensemble fonctionne à merveille et cela est certainement dû au fait que les musiciens ne sont pas des onanistes nés de la dernière pluie !!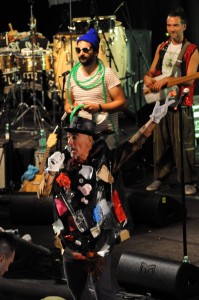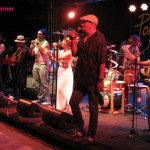 Place au groupe espagnol The Lucilles dont la présence est certainement due à un échange de bons procédés avec le festival de Maspalomas. La chanteuse Lucille Hurt ne brille pas par son originalité. On peut ,toutefois, porter au crédit du groupe qu'il n'interprète essentiellement que ses propres compositions et au débit un set trop long.
Mais il aura fallu attendre jusqu'à minuit pour que le véritable festival commence enfin avec The Original JB's. Martha High entre en scène après Sex Machine interprété par le bassiste Fred Thomas.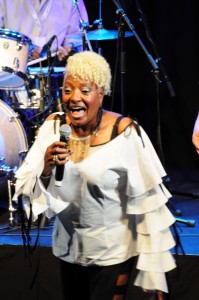 Toujours aussi sémillante malgré un âge que l 'on suppose avancé, elle se lance dans un long medley composé des incontournables de James Brown et termine avec le gospelisant I Got Something To Shout About . Mais tout ceci n'était qu'un tour de chauffe puisque le groupe était programmé le lendemain pour un set plus long et plus prestigieux.
Texte et Photos (©) Soul Corner : Jean-Claude MORLOT
Photos : (©) Anne de COLBERT