C'est avec une formation plus complète que la veille que The Original JB's font leur entrée. On nous annonce qu'au lieu des traditionnelles 70 minutes que le show en durera 90. Le célèbre présentateur Danny Ray qui semble diminué quitte discrètement la chaise qu'il occupe en coulisse pour présenter le spectacle comme il en a l'habitude depuis plus de cinquante ans.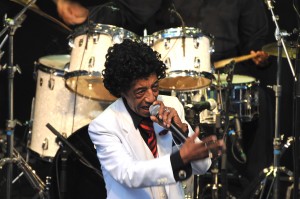 Le bassiste Fred Thomas enchaîne avec I Got The Feeling, Make It Funky…Fred Wesley s'installe tandis qu'une chanteuse dénommée Tammy interprète Get On The Good Foot qui sera agréablement remplacée par Cynthia Moore (Papa's got A Brand New Bag)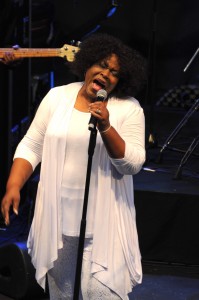 . Pas de grande surprise avec le répertoire de' Fred Wesley qui comporte ses grands classiques comme Pass The Peas. Gimme Some More. Le set sera très court car il paraît ressentir les mêmes symptômes que Danny Ray. Reste que la machine instrumentale soutenue par le batteur Tony Cook est d'une efficacité redoutable. Tout ceci est connu par cœur il demeure qu'il est agréable d'assister à une telle précision métronomique et de constater que l'esprit d'origine perdure. Entre ensuite Martha High qui reprend peu ou prou la play list de la veille tout en l'élargissant. Rappel avec l'inévitable Sex Machine.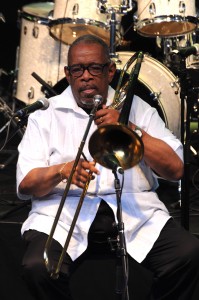 Comme désormais chaque année, c'est à Anthony Paule et son Soul Orchestra d'opérer en temps que « house band ». La chorsite Sue McCracklin rend hommage à son père Jimmy en interprétant The Walk tandis qu'une autre choriste Loralee Christensen suit avec Oh, Darling Mine. La toujours sémillante Falisa Janaye n'est plus une inconnue du festival car elle y vient pratiquement tous les ans depuis 2013.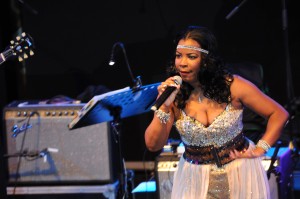 Son set, hélas trop court, n'est constitué que de reprises allant du Shoorah!, Shoorah! de Betty Wright au poignant If Loving You Is Wrong qui sera l'occasion d'un amusant et sensuel duo avec Rick Hutton pour terminer par une excellente version de Baby Workout (Jackie Wilson).
Scott Sharrard ne doit certainement sa présence que du fait d'avoir été le leader du Greg Allman Band jusqu'à la mort de celui-ci dans le courant de l'année. Il démarre avec le soul/blues Debt extrait de l'album enregistré avec The Brickyard Band en 2012 pour enchaîner sur High Cost Of Loving You écrit avec The Bo-Keys.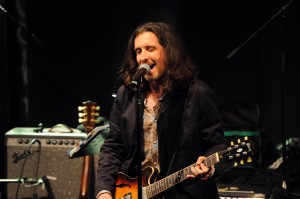 Suivra Words Can't Say qu'il déclare avoir enregistré dans les studios Hi. Il s'inscrit vocalement dans la tradition d'un certain rock blues blanc qui ne saurait faire oublier son remarquable jeu de guitare.
LaRhonda Steele et King Louie entrent avec Take Me To The River et It's Your Thing. Après une longue interruption le temps d'installer la batterie de Bernard Purdie, LaRhonda revient pour interpréter Natural Woman puisque Purdie avait accompagné Aretha Franklin.
Les inconditionnels des Blues Brothers attendaient avec impatience l'arrivée du frontman du groupe Rob Paparozzi. Le numéro fut sans surprise conforme à leur attente et se termina en apothéose en compagnie de LaRhonda avec Hold On I'm Coming.
Le moment le plus attendu fut sans conteste l'arriva du sudiste Willie Hightower. D'entrée, Nobody But You donne le ton.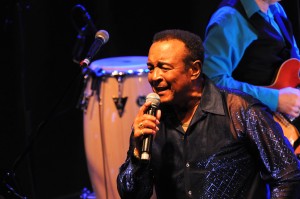 Puissance de la voix dans les langoureux Time Has Brought About A Change et It's A Miracle, énergie avec son classique Walk A Mile In My Shoes, la soul classique et intemporelle était, ce soir là, au rendez vous. Le set, hélas trop court, fut conclu par If I Had A Hammer.
Barbara Blue est surnommée « The Reigning Queen Of Beale Street" (Memphis) où elle chante tous les soirs au Silky O'Sullivan's. Le choix d'une composition Hayes/Porter Love Is After Me enregistré à l'origine par Charlie Rich aux studio Hi donne le ton. I'm Gonna Tear Your Playhouse Down suit dans la même veine. On peut trouver dans les bluesy Hands Off et A Woman's Blues des intonations à la Etta James.
Et puis comment résister à sa relecture personnelle de Heartbreak Hotel qui donna au guitariste Anthony Paule l'occasion d'un remarquable solo ? Pour terminer avec Memphis Stomp en hommage à Willie Mitchell qui fut un de ses mentors. L'impression qu'elle donne ne laisse pas indifférent car elle respire la gentillesse, la sincérité et la générosité. Elle semble être ce qu'on appelle une femme entière.
La soirée n'était pas encore terminée et se fut à Toni Lynn Washington de la conclure. On peut légitimement se poser la question de l'opportunité de programmer une femme âgée à une heure tardive.
Mais le résultat valu l'attente. Everybody's Fault But Mine fut suivi de I Take What I Want, puis de Everyday Will Be Like A Holiday pour conclure avec Feel So Bad. L'ensemble des artistes se joignit à elle pour le final qui clôtura cette soirée de six heures.
Jean-Claude MORLOT
Photos : © Anne de COLBERT