Le pianiste néo orleanais Davell Crawford est issue d'une longue lignée de pianistes. C'est en toute logique qu'il démarra par le classique Iko, Iko écrit par son grand-père. Suivirent Big Boss Man, Something You Got, Nobody Knows You When You're Down & Out. Rejoint par Vasti Jackson qu'il déclare connaître depuis ses plus jeunes années, il interprète Georgia On My Mind dans un style propre à celui de la Crescent City.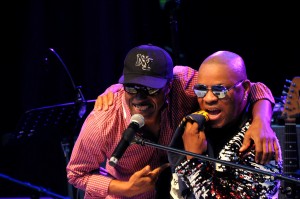 Son set dura plus d'une heure ce qui semble un peu disproportionné par rapport au peu de temps que d'autres artistes ont pour s'exprimer. Ce qui pourrait paraître agréable dans un club ne l'est pas nécessairement dans un festival. D'autant que, nonobstant un talent évident, qu'il semble par moment être un juke box vivant comme lors de sa version de I Can't Stand The Rain.
Anthony Paule et son orchestre s'installe pour un marathon de quatre heures qui commença par une remarquable version du Stay With Me Baby de Lorraine Ellison par Loralee Christensen. Entra ensuite une nouvelle venue à Porretta Terri Odabi qui impressionna avec une puissante interprétation de Drown In My Own Tears. Il est évident que Vasti Jackson ne possède pas le raffinement vocal de Johnnie Taylor. Il ne lui rendit pas moins hommage avec talent et énergie. C'est ainsi que, sans surprise, s'enchaînèrent les classiques Who's Making Love, Take Care Of Your Homework, Jody's Got Your Girl And Gone pour laisser la place à des œuvres moins vitaminées comme Stop Doggin' Me Around. Mais l'absence de sa guitare devait le démanger car il s'empressa de la récupérer pour scatter sur Cheaper To Keep Her alors que l'incontournable rappel Two Last Dollars lui donna l'opportunité de se lancer dans un long solo.

Place à Wee Willie Walker déjà présent en 2015. Il présente un extrait de son nouveau CD After A While. Pour commencer l'ambiance est plutôt jazzy avec Is That It alors que If Only et Good thing Is About To Come To An End lui permettent de retourner à ses racines sudistes. Le rappel sera l'occasion de demander à Terri Obabi de le rejoindre pour une énergique version de Lovey Dovey.
Le Sweet Soul Music Award décerné par le festival fut attribué cette année au fondateur du magazine finlandais Soul Express Heikki Suosalo.

Comment faire pour se faire un prénom Selassie lorsqu'on est le fils de Solomon. Difficile, en effet, en voyant le rejeton de s'empêcher au charisme et au charme vocal que dégageait son père. Sa version de Try A Little Tenderness fut sympathique sans être bouleversante.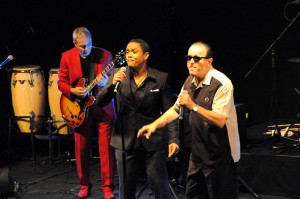 L'un des principaux tubes de Burke Everybody Needs Somebody To Love fut popularisé par les Blues Brothers. C'est donc sans surprise qu'il fut rejoint par Rob Paparozzi.
Le festival fêtait aussi le centième anniversaire de la naissance de Rufus Thomas. C'est à la cadette de ses filles Vaneese d'ouvrir l'hommage avec le jazzy Saturday Night On The River, Elle a longtemps été dans les années 90 et 2000 choriste à New York et il semble qu'il en reste des traces puisqu'une partie de son répertoire est orienté pop-rock qu'elle conclura après une version à rallonge de Wang Dang Doodle.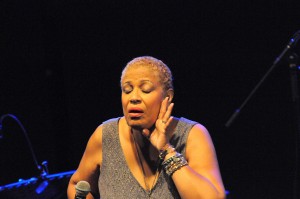 Changement de ton avec l'arrivée de la sœur aînée Carla. La frêle jeune femme de ses débuts est devenue une respectable vieille femme de 75 ans. L'outrage su temps ne semble pas avoir eu d'influence sur sa voix et sa version de son classique B.A.B.Y. demeure toujours aussi évocatrice. Sa version de Little Red Rooster est une surprise puisqu'elle reprend les arrangements jazzy écrits par Sam Cooke. Elle invite Scott Sharrard pour un solo qui laissera un instant Anthony Paule sur la touche. Stax fut de retour avec Something Good Is Gonna Happen To You avant la réunion de famille pour l'hommage au père. Et c'est en duo qu'elles reprirent à leur manière Memphis Train et Walking The Dog.

Ricky Fanté qui est également acteur (il a interprété le rôle de Marvin Gaye dans le téléfilm The Temptations) a une personnalité précieuse qui n'a pas manqué de susciter quelques sarcasmes de la part d'une certaine catégorie des spectateurs masculins ! Il démarre avec deux titres extrait de son unique CD qui seront suivis par, festival oblige, par une plaisante version de These Arms Of Mine et enfin par It Ain't Easy qui demeure à ce jour son seul hit.De manière inattendue, son court set se termina en invitant Carla Thomas où ils reprirent ensemble Tramp comme au temps d'Otis & Carla.
Texte : Jean-Claude MORLOT
Photos ; © Anne de COLBERT