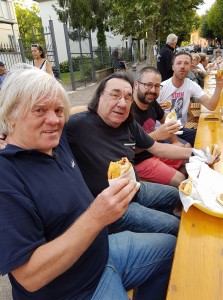 Le lendemain le bus du festival nous emmène dans un périple qui semble sans fin au long d'une route en lacets jusqu'à la ville de Tollé. La scène, plus modeste que celle de la veille, est adossée à l'église de la Piazza Givanni XXIII. Une suite de tables occupent la rue centrale donnant un air de banquet campagnard. Nous y sommes Dave Thomas, Stillyan Angelov et Stefan Skill Kolev (deux Djs bulgares) invités à déguster quelques spécialités locales comme le montre la photo prise par Graziano Uliani.
La plupart des artistes étant déjà en route pour les Canaries, ceux qui sont restés eurent l'occasion de donner libre court à leur talent. C'est ainsi que nous avons l'opportunité de découvrir l'étendue de celui de Terri Obadi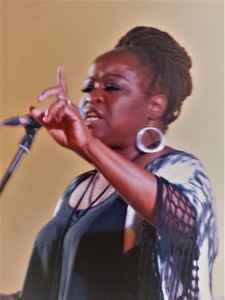 qui s'exprima longuement avec Something's Gotta Hold Of My Heart/Mr Blue Soul/I'm Gonna Live My Life/I'll Sing The Blues/Drowning In My Own Tears avant d'être rejointe par Willie Walker pour Lovey Dovey. Willie,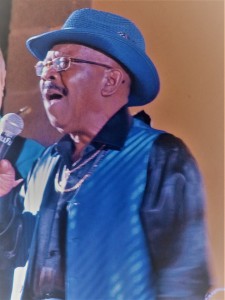 quant à lui, interpréta Look What You've Done To Me/ After A While/I Don't Want To Hurt You/Ain't That Love et Is That It. Enfin, Barbara Blue fut exubérante dans ses versions de Heartbreak Hotel et Wag Dang Doodle.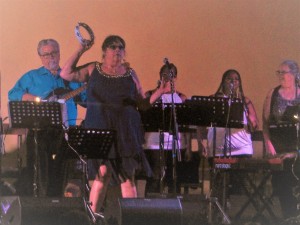 EN MARGE DU OFF
-C'est en présence des édiles municipaux que le pont qui relie les deux berges de la ville fut baptisé « Solomon Burke Bridge ». Ceux ci ne manquèrent d'insister de l'influence du festival sur l'économie locale.
-Le groupe Zoccolo Duro édita pour ses membres et pour fêter le 30 ième anniversaire un t-shirt commémoratif qui leur fut réservé.
-Le traditionnel déjeuner dominical au restaurant La Pace avait, comme à son habitude, invité les artistes qui le souhaitait à se rejoindre le Zoccolo Duro.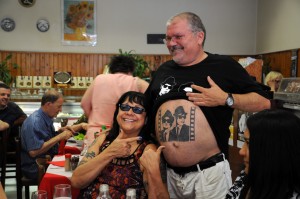 Bernard Purdie, Scott Sharrard, Barbara Blue, Rob Paparozzi acceptèrent l'invitation tandis que Falisa Janaye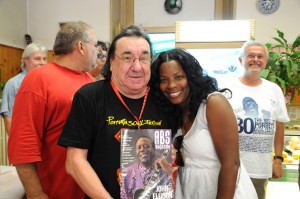 découvrait avec surprise l'article que le magazine ABS avait consacré à son récent CD.


-Enfin, le festival ne serait pas ce qu'il est sans l'accueil chaleureux du personnel du festival dont Mauro Palmieri (pour ne citer que lui), sans les longues nuits en compagnie des artistes au Pub" Il Califfo "(qui fêtera ses vingt ans en Octobre) des frères Filipponi. Et aussi, sans oublier les fabuleux « spaghetti con vongole » de l'ami Michele dans son restaurant " Le Salette" (Via Nazionale, 110 Ponte della Venturina)
Texte et Photos © Jean-Claude MORLOT

Photos La Pace © Anne de COLBERT
,
.