Ce 18 Juillet 2014 alors que nous étions plongés dans la trépidation du 27 ième Porretta Soul Festival, la nouvelle de la disparition de James Govan nous frappa de stupeur. Cet artiste (né en Septembre 1949) au mimétisme si proche d'Otis Redding au point qu'il était surnommé "Little Otis" avait été au fil des années (1993, 95, 96 et 97) un fidèle animateur de cet unique lieu européen de la Soul Music.
Un CD, compilation de ces différentes participations, était en préparation depuis le début de l'année. Un hasard malheureusement fortuit fait coïncider son édition avec cette triste nouvelle.
Soutenu par la crème des musiciens de Memphis, il y démontre au travers d'une suite de classiques (Shake, Dock Of The Bay, Soul Man…) ses qualités vocales si proches de celles de son inspirateur.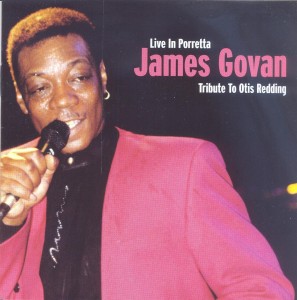 A noter également deux remarquables duos Are you lonely baby et Sweet Soul Music (dont le texte à été modifié pour rendre hommage aux artistes Stax) en compagnie de la chanteuse Jackie Johnson. Témoignage de la première décade du festival ce recueil rappellera de nombreux souvenirs à ceux qui chaque année font leur pèlerinage italien.
(Edited by 103 Centrote www.103.it)
Mais la médaille de cette célébrité européenne avait un revers. Ses prestations Outre Atlantique étaient trop connotées de celles de son illustre inspirateur au point qu'il avait du mal à trouver sa place car certains allèrent même jusqu'à dire qu'un second Redding n'était pas nécessaire. Repéré par Rick Hall (Fame Records) il enregistre deux singles où sa voix puissante et rauque donne toute sa puissance à la Soul sudiste à la manière d'un Wilson Pickett.
Le succès ne fut pas au rendez vous et il retourna comme batteur dans le groupe Stone Blue à tourner à Memphis et ses environs. Jusqu'à ce que les musiciens de Muscle Shoals lui donne une seconde en lui donnant l'opportunité d'enregistrer l'album I'm in Need en 1982 qui restera inédit jusqu'en 1987 où il sera édité en Angleterre par Charly (CD Charly 113).

C'est ainsi que se créent les légendes de la Soul Music
Jean-Claude MORLOT