Le  Dimanche est désormais consacré à la Memphis Rhythm and Blues Show and Revue. Cette année la formulation était un peu galvaudée puisque se produisaient également des représentants de Chicago. La soirée commença par les inévitables australiennes Sweethearts of Soul qui, comme le Jeudi, furent meilleures musicalement que vocalement. Il est toutefois consternant de noter alors que le film The Sapphires passe actuellement sur nos écrans qu'il n'y ait que de blanches et pas une seule aborigène. (J'aurais certainement l'occasion de revenir sur ce film qui sans être une œuvre impérissable n'en demeure pas moins intéressant sur un des aspects volontairement méconnu de la colonisation européénne de l'Australie)
Mais il était temps de passer aux choses sérieuses. The Bo-keys démarrent avec Just Chillin' extrait de leur nouvel album Got To Get Back ! Ben Cauley vient chanter I've Never Found A Woman puis s'en retourne rejoindre la section de cuivres.
John Gary Williams commence par une courte introduction accapella avant d'interpréter son premier succès I Don't Have To Shop Around qu'il enregistra au sein des Mad Lads. A l'évidence, sa performance ne fait que reprendre celle du Vendredi puisqu'il continue avec …Damn World. Il n'y a pas lieu de s'en plaindre d'autant qu'il ne cède à la tentation de la facilité de reprendre des titres usés jusqu'à la corde.
Trois petits tours et puis s'en va pour céder la place à David Hudson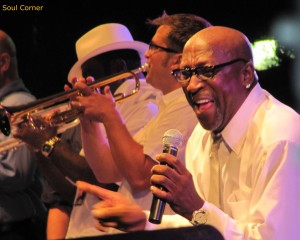 qui va utiliser la même recette en annonçant carrément la couleur puisqu'il indique qu'il va reprendre l'essentiel de son show du Vendredi. Ce qui ne l'empêche pas d'improviser en faisant participer le public durant Honey,Honey. Et puis, il y eut cet impitoyable retour aux sources avec Try A Little Tenderness.
Et la révision générale continue avec Syl Johnson.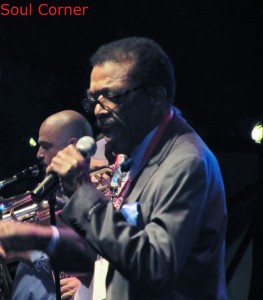 Il semble trouver un plaisir certains à distiller ses vieux titres funk comme Sock It To Me qu'il transforme en hommage à James Brown allant jusqu'à demander à l'orchestre de jouer 21 fois le riff de I Feel Allright. Sa présence sur scène semble le galvaniser et lui donner l'énergie dont il a besoin. Mais certains signes ne trompent pas. Il est très amaigri, a du mal à mettre la bretelle de sa guitare autour de son épaule au point que les musiciens s'en inquiètent.
Otis Clay enchaîne, comme la veille, avec Trying To Live My Life Without You. Il est tellement à l'aise et au sommet de son art qu'on ne lui reproche ce type de redites dont il ne se prive pas. La superbe ballade pleine d'émotion Finally Got Over You lui permit d'offrir au public captivé un grand moment de Soul tandis qu'il termina son court set sur une rythmique plus enlevée avec son nouveau single I've Got To Get Back (To My Baby). Ses deux prestations hélas trop courtes furent choisies par beaucoup comme étant les meilleurs moments du festival.
Sans surprises, l'essentiel du show des Bar-Kays était composé de classiques Stax (Sweet Soul Music, Knock On Wood, Hold On I'm Coming etc...)Les seuls moments originaux fut lorsque le guitariste Ezra Williams interpréta Purple Rain qu'il déclara avoir chanté devant les troupes américaines en Irak et surtout le passage au funk avec le célèbre Freak Show ainsi que I Want To Take You Higher.


Et comme c'est désormais la tradition de fin de festival ils furent rejoints par tous les artistes pour une jam géante qui se transforma en hommage à Otis Redding avec David Hudson, Otis Clay, Syl Johnson dans une version personnelle de Dock Of The Bay.
La soirée fut ponctuée par une suite de remises de prix pour certains membres fondateurs, aficionados italiens, et piliers du festival ainsi que pour la revue anglaise In The Basement. L'atmosphère était étrange comme celle d'une fin de règne. Mais j'y reviendrai dans les « Off de Porretta ».
Texte et Photos Jean-Claude MORLOT
Photo d'Ezra Williams : Leonardo LANDI
Diaporama : Anne de Colbert
TOUTES LES PHOTOS SONT LA PROPRIÉTÉ DE LEURS AUTEURS ET NE PEUVENT ÊTRE REPRODUITES SANS LEUR ACCORD.