Chaque festival a son côté caché, la face obscure de ses coulisses. L'un des moments phare fut les répétitions de Toni Green avec le CIV Soul Band à la salle de musique située sur le campus du Centre International de Valbonne. J'imaginais que tous les musiciens et choristes devaient être anxieux à l'idée de rencontrer celle que la presse locale avaient baptisée « The Memphis Queen of Soul ». Serait elle distante, hautaine à l'idée de chanter avec de jeunes musiciens français dont l'un (il se reconnaitra) n'a que 17 ans ? Je savais qu'il n'en serait rien. D'entrée, Jean-François Jacomino qui manage sa petite équipe avec fermeté mais aussi avec tendresse donne le ton. Les partitions sont prêtes. Le travail peut commencer

Dés les premières notes, le profane musical que je suis comprends que le tapis de velours est déroulé. Il n'y a aucun accroc durant chaque titre. Un essai et on passe au suivant. L'osmose entre des musiciens et une chanteuse qui ne s'étaient jamais rencontrés est parfaite au point que la quasi totalité du répertoire est parcourue dans la matinée. Cette osmose est rendue possible par le fait que chacun est à l'écoute de l'autre. Toni n'hésite pas à prendre à part les choristes pour leur donner quelques indications. Elle n'est jamais autoritaire plutôt pédagogue voire un peu « mère poule ».
La salle de musique est ouverte à tous. Beaucoup d'étudiants et d'enseignants s'arrêtent intrigués en demandant le nom de cette chanteuse si phénoménale. Pendant que certains filment l'événement, nous expliquons qu'elle doit se produire le lendemain. Après le repas, Jean-François propose de refaire un galop d'essai qui s'avère concluant. Reste à finaliser le duo avec Gérôme Gallo qui n'a vu de Toni Green que la vidéo de Porretta 2009. L'accord entre eux deux est tel que tout est dit en dix minutes et le duo sur les rails. Ça s'appelle du professionnalisme.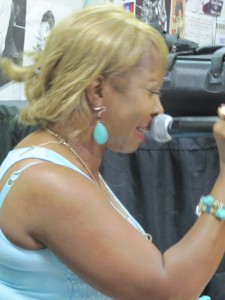 Jazzbonne ce fut aussi les couscous et paella géants d'après concerts avec toute la bande et Bobby Johnson. Ce fut aussi les fou-rires, l'euphorie d'avoir réussi à réaliser notre rêve d'avoir Toni Green sur une scène française. Ce fut aussi l'enthousiasme des édiles locaux qui ont promis de mettre l'an prochain des moyens plus conséquents pour pérenniser le festival. Ce fut aussi l'interview sur Clin d'Oeil FM qui doit être la première radio hexagonale a diffuser son nouveau single.
Et surtout un grand merci à tous ceux qui, bénévoles, professionnels et Nice Matin, ont acceptés pour certains à leurs frais d'avoir contribué à rendre ce moment inoubliable.
Nul doute que l'aventure ne fait que commencer.
Le mot de la fin appartient à Jean-François Jacomino :
Ce que j'ai beaucoup apprécié de la part de Toni Green, c'est sa disponibilité (elle a répété quasiment 4 H avec le band) et sa gentillesse. Pas la Diva que beaucoup imaginent mais une personne à l'écoute, avec toujours un mot gentil pour les uns et les autres…Chapeau bas !!!!!

Texte et Photos Jean-Claude MORLOT