La disparition de Teddy Pendergrass est aussi celle d'une grande voix de la Soul qui s'éteint.
Originaire de Philadelphie, il contribua à rendre célèbre le fameux « son ».
Formé à l'école du gospel, il devient dans sa jeunesse le batteur d'un groupe local The Cadillacs qui ne tardera pas à fusionner avec Harold Melvin and The Blue Note dont il deviendra le chanteur soliste.
Le succès vient très vite au rendez avec des titres comme If you don't know me by me ou Wake up everybody. Il devint très vite évident que des problèmes relationnels intervinrent au son du groupe, d'autant que le nom du chanteur ne figure pas dans l'intitulé le reléguant derrière Harold Melvin.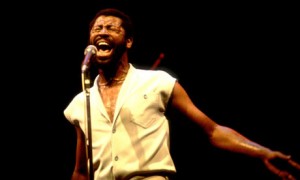 La séparation est inéluctable. Il se lance dans une carrière solo que personne ne regrettera.
Libre de ses choix et de son avenir, il développe un personnage de sex symbol sachant attirer un public féminin qui le lui rendra bien. Sur scène, il chantait torse nu des textes torrides dont la célèbre trilogie Come go with me,Close the door, Turn off the light qui se termine en apothéose avec une inévitable conclusion : Do Me. Les vidéos du Hollywood Bowl en 79 et de l'Hammersmith en 82 sont symptomatiques de l'ambiance qui régnait. Les plus sages lui envoyaient des ours en peluche (son surnom était Teddy Bear) et les plus dévergondées leurs sous vêtements. Loin de ce côté anecdotique, Pendergrass était un authentique interprète à la voix chaude et ensorcelante.
En 1982, survient un accident de voiture en une compagnie d'une passagère à l'identité trouble, le cloue hémiplégique dans un fauteuil roulant. Diminué physiquement mais pas vocalement il signe alors avec Asylum où il retrouve le succès avec Joy et 2 A.M.
L'intégralité de ses enregistrements PIR a été rééditée par Ace Records.
JCM