Archive for August, 2021
Tuesday, August 17th, 2021
Sunday, August 15th, 2021
-Il y a la guerre dans le Golf, La plupart des artistes ont, contrairement à vous, annulés leur tournée promo.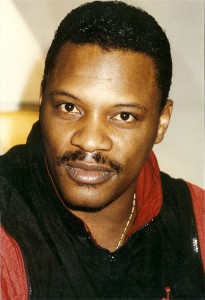 - Je dois travailler, Moi aussi, je suis en guerre, le public a besoin de musique en cette période troublée.
-L'album All True Man se divise en deux parties, L'une rapide, l'autre lent.
-C'est volontaire, car j'ai eu l'opportunité de faire ce dont j'avais envie, l'impression qu'il semble avoir été enregistré live en studio provient certainement du fait de l'énergie qui s'en dégage, Nous avons privilégié le rythme car c'est dans l'air du temps,Nous avons voulu faire du funk sophistiqué avec aussi des violons, C'est le funk des années 90.
-L'autre face lente est plus élaborée où l'on reconnaît le chanteur surnommé « The Voice »
-J'aime être un chanteur de ballades, voire même un crooner, C'est là que l'on trouve le meilleur d'Alexander O'Neal, Je travaille beaucoup pour améliorer encore cette image.

-Lorsqu'on vous voit chanter If You Were Here Tonight on peut penser que chaque spectatrice imagine que vous ne chantez The Morning After que pour elle.
-C'est une très belle chanson d'amour , très positive envers les femmes.Souvent les hommes pensent à ce qui se passe avant ou pendant. Rarement, on leur demande de rester le matin !
-Paradoxalement, l'album tente d'adopter une démarche sociale.
C'est un album à message. Nous nous sommes efforcés de de dire qu'il ne fallait pas se trouver d'excuses pour ne pas faire ce que nous devons. Yok en est l'exemple : c'est le synonyme de « je ne peux pas « . En fait, c'est une philosophie très simple qui consiste à dire « si tu le vois , tu peux l'avoir »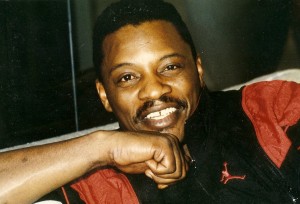 -Cette démarche peut se rapprocher de celle des rappeurs
-J'aime le rap. Je pense que le genre va durer. J'aime des artistes comme NWA, Ice Cube ou Public Enemy

-Et le message ?
Je veux être un «  All True Man ». Ce que je définis comme un homme qui doit commencer par s'aimer lui même, élever ses enfants, prendre ses responsabilités. Quelqu'un qui traite les autres comme il voudrait être traité. Voilà le véritable message. Il faut avoir de la compassion envers les autres.

Ces mots de tolérance et d'espoir pour le genre humain me font penser à votre album de Noël « My Gift For You (Tabu 463152-2)
-J'avais quelque chose à donner à mes frères et surtout à mon Dieu. Je suis fiér d'avoir enregistré cet album. Il ne nous a demandé que deux semaines. Si vous voulez connaître la substance d'Alexander O' Neal, c'est cet album qu'il faut écouter car le plus profond de moi y apparaît. The all true man is my gift to you.
-Vous remplissez l'équivalent de notre Bercy, Wembley Arena une semaine d'affilée. Qu'en est il aux USA ?
-en fait, là bas, tout le monde commence à se poser la question de savoir qui est ce chanteur qui est si populaire en Grande Bretagne . Une semaine après sa sortie mon album est déjà classé n°2.

-Est il vrai que vous avez chanté comme choriste avec SOS Band ?
-Sur une chanson seulement The Finest . Je ne suis pas mentionné pour des rasons commerciales.
-SOS Band vient bientôt à Paris, vous pourriez vous produire ensemble
_Une Tabu Review serait une bonne idée. Cherelle, SOS et moi, pourquoi pas ?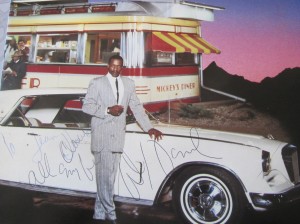 -Puisque nous parlons de Cherelle, il est surprenant que vous n'ayez pas fait de duos ensemble.
–Non, parce que nous attendons pour enregistrer un album entier ensemble.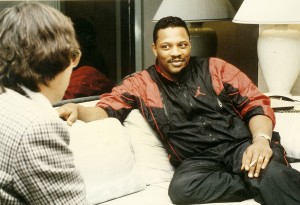 Propos recueillis par Jean-Claude Morlot à l'Hôtel Intercontinental (Paris) le 28/01/91 à l'occasion de la promotion de l'album All True Man
Photos © Gilles Valentiny (RIP)
-