Saturday, April 17th, 2021
Soul Corner existe sur le net depuis 2006 et depuis 1984 dans la presse papier aussi nous avons jugè utile de republier ses moments phares que furent ses interviews.
Nous commençons aujourd'hui avec Gerald Alston ex leader du groupe vocal The Manhattans.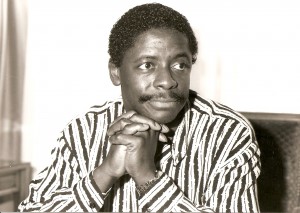 Jean-Claude Morlot : Commençons par le début, Vous avez débuté en chantant le gospel,
Gerald Alston : Dès l'age de trois ans, en Caroline du Nord, avec un père pasteur, une mèren pianiste et un oncle chanteur (Johnny Field des Five Blind Boys Of Alabama)
- Votre biographie laisse supposer qu'il n'y eu pas d'interruption entre cette période et celle des Manhattans,
GA – C'est vrai, J'avais formé un groupe The New Imperials et nous sommes passés un soir en première partie des Manhattans, Leur soliste, George Smith, qui était très malade et pensait à prendre sa retraite m'entendit chanter et recommanda au groupe pour le remplacer, Ma plus grande joie fut d'interpréter en sa présence sa partie quelques jours avant sa disparition,
- Vous êtes resté dix sept ans avec le groupe , la décision de le quitter pour une carrière solo n'a du être facile à prendre
GA- C'est évident, j'ai prévenu les membres du groupe un an avant de les quitter , Pendant cette période, j'ai aidé mon remplaçant (Roger Harris, présenté par Roy Tyson des Temptations) ,
-Comment définissez vous votre nouvelle carrière , vos nouveaux producteurs?
GA- Aujourd'hui, je suis entièrement responsable de mon avenir, Mon style évolue puisque je suis un chanteur solo et non plus leader d'un groupe vocal,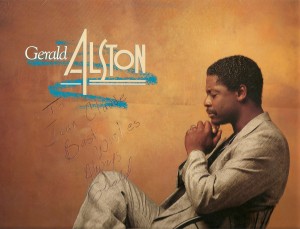 -Vous êtes pourtant soutenu par le groupe vocal BY All Means,
GA- Je salue ce groupe qui fait un travail fabuleux, L'approche vocale est différente du travail en groupe ; ils sont le soutien et non le complément,Mes producteurs Sam Sheppard et Jim Warner ont une vision plus contemporaine des choses
-Les drum machines, les synthés,,, ?
GA- C'est vrai , nous sommes en 1990, il faut vivre avec son temps, Rien ne remplacera un batteur qui, avec toutes ses qualités, ne pourra jamais atteindre la perfection, Ce sont les défauts, les iirégularités qui rendent la musique humaine,
-Sur scéne, il me semble que ce soit différent,
GA-J'adore les ballades- j'en écrit également- surtout lorsqu'elles racontent une histoire positive, J'estime que l'on peut s'y exprimer pleinement, le « uptempo », c'est différent car il faut d'abord faire passer l'énergie,
-Imaginez vous introduire des éléments rap dans votre musique ?
GA,,, Pourquoi pas,,,malgré que ce ne soit pas mon style et à condition que le contenu soit positif,
-Pourtant le rap existe depuis toujours, Il y a souvent des passages parlés entre deux couplets,
GA- C'est vrai, Lorsque Blue Lovett parle de sa merveilleuse voix de basse,
-Quels sont vos projets ?
GA – Je prépare mon album solo pour lequel je recule un projet gospel qui me tient à cœur, J'ai l'intention d'enregistrer avec Johnny Fields et les original Five Blind Boys un album gospel au sens strict du terme,
-Pas de « drum machines » comme chez Al Green,
GA- Non, strictement traditionnel, Pour mon nouvel album, je continue de travailler avec Sheppard et Warner, Je produirait également quelques titres que j'ai écrit, ment quelques titres que j'ai écrit, Et puis comme je n'oublie pas que je viens d'un groupe, j'enregistrerai un titre avec ce merveilleux ensemble vocal que sont The Dells,
-Qu'est TAJ Records, votre maison de disques, par rapport à Motown ?
GA- C'est un indépendant distribué par Motown, Un peu comme dans les sixties quand les petits labels sortaient leurs singles et les majors, comme Atlantic, éditaient les albums, Rien n'a changé depuis,
Merci Gerald, nous espérons vous accueillir bientôt sur une scène française,
GA- Je l'espère, aussi car je parlais déjà de chanter à Paris au début des Manhattans,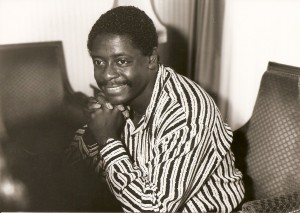 Recueilli le 25/10/85 à l'hôtel Warwick par Jean-Claude Morlot
Photos : © Gilles Valentiny (RIP)