Wednesday, January 20th, 2021
Very sad to hear of the passing of Winfield Parker also known as Mr Clean. Born in Cooksville, Maryland on the 21 June 1942. Winfield started his musical career as a Sax player in Sammy Fitzhugh & the Moroccans, who were based in the Washington DC area. They recorded two singles 'Linda Baby' c/w 'Sadie Mae' and 'I Feel Alright' c/w 'Lovers' for New York City-based label Atco.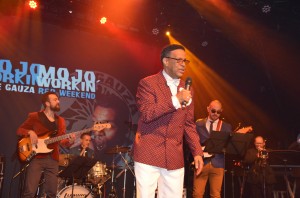 His next move was to join Little Richard's band for a year or so. He met Otis Redding and Otis agreed to produce a record on him, but due to some confusion, Winfield was in a Cincinnati recoding studio waiting to record "Sweet Soul Music" whilst Otis was in Muscle Shoals with Arthur Conley and Arthur rather than Winfield recorded the song. From the late '60s through the '70s, Winfield recorded sides for an assortment of labels that included Arctic, Ru-Jac, Wand, Spring, and GSF. Winfield's only hit was S.O.S. (Stop Her On Sight). A couple of his songs have long been Northern Soul favourites, "My Love For You", "Mr. Clean" & "Shake That Thing". Winfield was ordained a Minister in 1981 and released several Gospel albums. He still performed his Soul & R&B music and I was lucky enough to see him perform in London, New Orleans and San Sebastian where these pictures of Winfield and myself was taken on Friday 15 March 2019, at The Mojo Workin' Festival.
Dave Thomas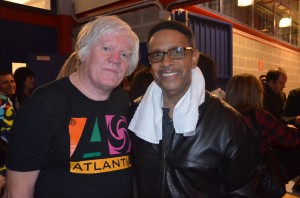 Je suis très triste d'apprendre la disparition de Winfield Parker qui était aussi connu sous le nom de Mr Clean. Il était né à Cooksville, Maryland le 21 Juin 1942. Il avait commencé sa carrière en jouant du saxophone dans le groupe originaire de Washington DC , Sammy Fitzhugh & the Moroccans. Ils ont enregistrés deux singles 'Linda Baby' c/w 'Sadie Mae' and 'I Feel Alright' c/w 'Lovers' pour le label new-yorkais Atco. Il rejoint ensuite pour une période d'un an environ le groupe de Little Richard. Ensuite il rencontre Otis Redding qui accepte de le produire, Il y eut alors une confusion puisque Winfield était dans un studio à Cincinnati pour enregistrer "Sweet Soul Music" tandis qu' Otis était à Muscle Shoals avec Arthur Conley et c'est Arthur plutot que Winfield qui enregistra le titre. Dès la fin des années 60 et durant les années 70 il travailla pour différents labels comme Artic, Ru-Jac, Wand, Spring et GSF,
Son seul succès fut SOS. (Stop Her On Sight)* Certains titres comme "My Love For You", "Mr. Clean" & "Shake That Thing" furent pendant de nombreuse années parmi les préférés de la scène Northern Soul anglaise
Il fut ordonné prêtre en 1981 et publia plusieurs albums gospel mais continua de se produire en tant qu'artiste « Soul » et j'ai eu la chance de le voir se produire à Londres, New Orleans et San Sebastien au Mojo Workin' Festival où ces photos de Winfield et moi on été prises.
* Le même que celui d'Edwin Starr
Traduction Jean-Claude Morlot