Wednesday, July 22nd, 2020
Bobby Jonz
aka
Bobby Jones
, who died of Covid 19 on Monday 21 July 2020 aged 86. I first saw Bobby in Lee's Unleaded, Chicago on 21 June 2005. I arranged to interview him for "In The Basement" a couple of days later, but unfortunately he had to leave the city due to a Family Bereavement, so the interview was cancelled. The next time I saw Bobby performing was at City Lights in Las Vegas on his Blues Jam Night 18 April 2016, which I attended with friends Nick Cobban, John Howard & Alan Lloyd.
Bobby was really known as an interpreter of other people's songs but whilst that maybe true, I feel that Bobby was a real journey man with a soulful voice, very much underrated, who managed to suprise everybody with his honest performances. Born in Farmerville, Louisiana a small town 24 miles northwest of Monroe in 1936. Bobby's journey started with the Blues in 1959 when he moved to Chicago under his real name of Bobby Jones. Bobby got his first break working at Peppers Lounge, he replaced Junior Wells in The Four Aces band with Dave & Louis Myers. Bobby's next band was with Barry Goldberg, Harvey Mandel, Mike Bloomfield, Charlie
Musselwhite, The album "Chicago Blues Union" collects recordings from
1964/65 he recorded with them. He is also featured on "Chicago Anthology
- Recorded Live At Big John's, Chicago". Bobby recorded a 45 for Veejay
around this time, 1965, "A Certain Feeling" written by Barry Goldberg
and "Sugar Baby" written by Andre Williams & Barry Goldberg. Morey
Alexander who was his mentor at the time produced the single.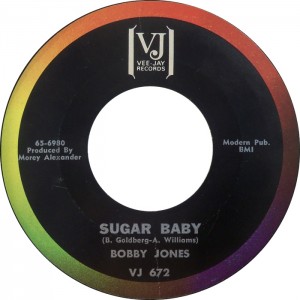 Heikki Suosalo mentions in his excellent overview of Bobby Jones' career in Soul Express, that "Sugar Baby"/ "In My Lonely Bedroom" was his first single on an obscure record label owned by Morey Alexander. Bobby left Barry Goldberg in 1966 and next appeared on USA records with Bill Lasley Producing "Check Me Out"/"Beware Stranger" with The Para-monts Girls who were three sisters. "Beware Stranger" being the better side,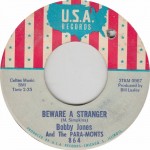 both tracks
can be found on "USA Records Soul Story" on FUEL cd 302 061 952.
Various other 45's followed but it was 1972 when his first album appeared "Talkin' 'Bout Jones" on the Toya label. Syl Johnson and Mighty Joe Young played on this album. A couple of singles from this album did well in Florida, Bobby was to move to Florida for a time, working all over the State. Bobby changed his name in 1982 to Bobby Jonz to avoid confusion over the Gospel singer Bobby Jones. Bobby was to become part of the Chittlin' Circuit, a Southern Soul singer and got underway with an album, Bobby Jonz "Thought You Were Loving Me" on Expansion in 1982.
More singles followed through the 80s and Bobby moved to California in 1986.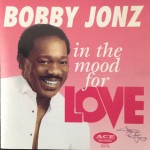 Johnny Vincent enters the story in 1995, releasing my favourite album of Bobby's, on Johnny's Ace Label of Mississippi. Recorded in Jackson MS, "I'm In The Mood For Love" which featured the superb "Innocent Til Proven Guilty", the self written "In The Mood For Love" a big hit on the Beach Music Scene is another goodie. There is real quality on this album, Harrison Galloway & Norman Williams did the arrangements with Harrison arranging the Horns. Jewel Bass is on background vocals.
Another great album followed, "This Is Bobby Jonz Country" followed in 1998 on Johnny Vincent's other label Avanti, this album, which shows Bobby's love of Country music, which started when he was growing up. I love the opening song "Snap Your Fingers" and "Tips of My Fingers". The album was arranged by Harrison Galloway who also played keyboards, Jewel Bass on backing vocals again.
"Your Freak Is Here" came next in 1999, on Big Bidness a subsidiary of Mardi Gras Records of New Orleans after Bobby had hooked
up with Senator Jones. Harrison Galloway again arranged the album with a contribution from Willie Clayton on "Too Pooped To Pop". Jewel Bass was the backing singer again on this album.
"Lee Shot Stole My Freak" followed in 2002, a low budget album on his own Red Dot label. Bobby reverted to using Jones on his 2008 release, Bobby Jones "Super Soul Club Hits".
Bobby Jones & The Mannish Blues Band "Comin' Back Hard" followed in 2009 on Delta Groove Music which is a very good blues album with a great line-up of talent, Kirk Fletcher, Kid Ramos, Junior Watson, Lynwood Slim & Fred Kaplan.
Bobby's involvement with the Mannish Blues Band started on their 2007 "Big Plans" album where he sang 2 songs "Mary Jane" / "California Blues". On the 2008 Mannish Boys album "Lowdown Feelin'" he sang on 7 of the 17 songs on the album. On the 2010 Mannish Boys "Shake For Me", Bobby sang vocals on 7 of the 15 songs.
Bobby next album in 2011 "You Ain't Got No Proof" saw Bobby return to Southern Soul after his Blues jaunts with the Mannish Boys, Bobby with writers/producers Pete Peterson, Eric Smith and Mist Lundy coming up with an ok album.
Bobby's last album in 2014 "Sings To Las Vegas" on Macrolbmusic, is a 8 track album of standards and without doubt not Southern Soul.
Sadly I never got to interview him, but we did talk for about 20 minutes in las Vegas. R.I.P. Bobby.
Text & all Pictures Dave Thomas
Acknowledgments & Thanks to Heikki Suosalo: Presenting Bobby Jonz :
Soul Express 2/2004
I was sad to hear of the death of