Sunday, September 29th, 2019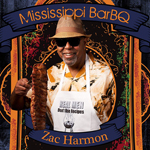 Zac Harmon
Mississippi BarBQ
Catfood Records CFR 028
Le CV de Zac Harmon est impressionnant. Celui qui, selon le journaliste Don Wilcox, allie la sophistication d'un Bobby Bland et le style de Freddy King a eut une carrière passionnante en faisant ses premières armes avec Dorothy Moore ou encore Z.Z. Hill pour continuer en temps que producteur, arrangeur et écrivain pour des artistes aussi variés que The Whispers ou The O'Jays pour ne citer qu'eux et jusque dans les années 90 pour Alexander O'Neal (Home Is Where The Heart Is/Change of Heart).
C'est à partir de 2003 qu'il considère qu'il est temps de retourner à ses racines et se consacrer au blues. Le présent CD se présente sous une forme relativement classique lorgnant grâce à l'apport d'une solide section de cuivres et une approche "soul" du côté de Robert Cray (Desesparate Love, Since You've Been Gone) ou encore de B.B. King (Sunday Morning After Saturday Night).
Mais la véritable surprise est la présence du titre de l'album qui est en complet décalage avec la tonalité générale. En effet,Mississippi BarBQ est ouvertement dans le droit fil de la "Southern Soul" qui est un genre à lui seul et qui raconte souvent des tranches de vie sudiste au point que la recette du BarBQ réussi est incluse dans le CD! Nul doute que ce titre ainsi que Make A Dollar Out A Fifteen Cents écrit dans la même veine contribue à lui apporter un nouveau public.
A noter une relecture personnelle de Knocking On Heaven's Door qui lui permets de laisser libre court à sa volubile virtuosité technique.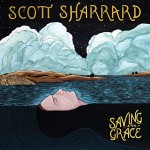 Scott Sharrard
Saving Grace
We Save Music WSM 001
Le chanteur/guitariste Scott Sharrard (ex musical director du Gregg Allman Band) a profité de la présence des Bo-Keys et de Scott Bomar avec lequel il a produit son album à Porretta pour en faire la promotion. Amoureux fou de Memphis qu'il considère comme le "paradis sur terre" il en a réuni la fine fleur pour nous offrir son hommage mâtinè d'un son rock très incisif. La cohésion est parfaite dans le titre d'ouverture High Cost Of Loving You où la voix de Scott même si elle n'est pas celle d'un blues shouter est aussi hargneuse que son jeu de guitare.
Difficile de faire un choix tant l'ensemble est séduisant que ce soit la ballade Words Can't Say ou les funky Sweet Compromise et Tell The Truth soutenus par une puissante section de cuivres marque de fabrique des Bo-Keys fidèles à l'esprit de la ville mythique.
La seule reprise est celle de Everything A Good Man Needs de Gregg Allman interprété par Taj Mahal et avec Bernard "Pretty" Purdie à la batterie.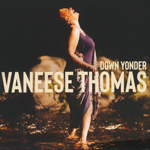 Vaneese Thomas
Down Yonder
Segue SRVT 2019
Fille de Rufus, sœur de Carla Vaneese Thomas n'a pas suivi les traces familiales puisque c'est à New York qu'elle fera ses premières armes en enregistrant en 1987 pour Geffen l'album Vaneese (qui connaitra un relatif succès avec le titre I Wanna Get Close To You) produit par Beau Huggins connu par la découverte de Freddie Jackson pour Orpheus Prod. S'en suit une longue décennie où sa participation en tant que "background singer" sera importante.
en 2004 parait, déjà chez Segue, l'album A Woman's Love qui doublonne royalement pour dix titres sur douze avc Talk Me Down (Unleashthe80s Records) publié en 2001 et qui bénéficiait de la présence de Kirk Whalum, Patti Austin ou encore James D-Train Williams.
Le présent CD est un album à la tonalité pop/rock dans lequel Vaneese s'exprime d'une voix puissante et inspirée voire gospelisante au point que Down Yonder semble sorti du répertoire des Staples Singers ou encore dans Legacy Of Pain avec le chanteur Kevin Bacon où elle évoque des meurtres commis dans le Mississippi et pas encore élucidés.
Il faudra se reporter aux titres I Tried/Last Kiss où figurent les cuivres de Lannie Mc Millan et Kirk Smothers (des Bo-Keys)et Wake Me avec Carla dans les chœurs pour retrouver un peu de l'inspiration de sa ville natale.
Jessy Wilson
Phase
Three Tigers
Protégée d'Alicia Keyes, dont elle a été choriste, amie de John Legend dont elle a partagé les compositions Jessy Wilson se lance en solo en revendiquant l'héritage de Curtis Mayfield et le R'n'B des années 70. Et c'est ici que semblent s'arrêter les influences car nous sommes en face d'une œuvre disparate sans homogénéité où le rock le dispute à une pop éthérée très britannique (Oh, Baby, Love & Sophistication, LA Night) alors que Clap Your Hands, sa hargne et sa guitare psyché sans rapport avec celle de Curtis Mayfield nous rappellent les grandes heures de Betty Davis. Moving Through Your Mind en forme de "Soul planante" ressemble à ce que faisait Jhelisa Anderson (soeur de Carleen) il y a une vingtaine d'année dans Language Electric !! Paradoxalement cet album produit par Patrick Carney (batteur des Black Keys) plonge plutôt dans le pop rock seventies que dans le hip hop. Dommage car sans posséder une tessiture identifiable immédiatement comme une Macy Gray ou encore Erykah Badu Jessy Wilson est agréable à écouter.
Jean-Claude Morlot