Sunday, June 30th, 2019

Blackpool est une station balnéaire du Nord de l'Angleterre qui eut son heure de gloire au début du siècle dernier et qui fut dans les années 50/60 un haut lieu du tourisme populaire. Aujourd'hui, la ville possède le charme désuet d'une cité décidée à ne pas mourir alors que son bord de mer ressemble à une fête foraine permanente. C'est au Winter Gardens joyau de l'ère victorienne (construit en 1878, ici en photo) que déroule l'International Soul Festival plus spécialement dédié à la Northern Soul dont il convient, en préambule, de définir le phénomène quasi unique au Monde.
La Soul Music envahit l'Angleterre au milieu des années 60 et se propage dans toutes les classes sociales. C'est dans le Nord, à Manchester et dans ses environs que de jeunes travailleurs issus de la classe populaire se réunissent dans des clubs devenus légendaires comme The Wigan ou The Torch pour danser sur les sons de Motown et de Stax, pour ne citer qu'eux, le Samedi soir jusqy'à l'épuisement. La recherche de disques rares ou obscurs deviendra une compétition et une émulation entre amateurs qui tournera à l'obsession jusqu'à les transformer en plus grands spécialistes mondiaux du genre. Ce phénomène qui perdure encore est abondamment décrit et documenté dans le livre Too Darn Soulful, The Story Of Northern Soul (David Nowell, Robson Books, 1999)
Entrer dans The Winter Gardens est faire un plongeon dans le passé tant au niveau architectural du lieu au style rococo surchargé que par les amateurs venus des quatre coins du Royaume. La moyenne d'âge est élevée et il devient évident que nous sommes en présence de passionnés de la première heure car nous allons vivre "soul" pendant trois jours. De nombreux stands proposent des vinyles rares à des prix prohibitifs (il n'y a pas de singles à moins de 6 euros) ainsi que que nombreux objets "memorabilia"et flyers.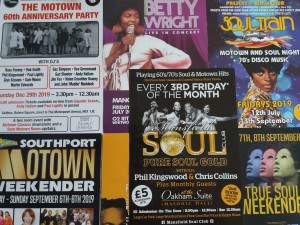 Six pistes de danse animées par de célèbres DJs et classées par thèmes (Northern Soul, Soulful Dance, Luxury Modern Soul etc..) sont actives dès tôt dans la journée alors que la nuit venue la salle de concert devient un gigantesque "ballroom" Les DJs sont sur scène et une caméra projette sur un écran les 45 tours tournant sur les platines!
Autre fait marquant, est l'incroyable disponibilité des artistes qui se prêtent sans rechigner aux séances de dédicaces et de photos alors qu'il faut parfois plus d'une heure pour passer à son tour.
En compagnie de Brenda Holloway et de Eddie Holman

Texte : Jean-Claude Morlot
Photos : 1/2/4/5 Jean-Claude Morlot
3/6/7 Courtesy of Dave Thomas