Sunday, January 31st, 2016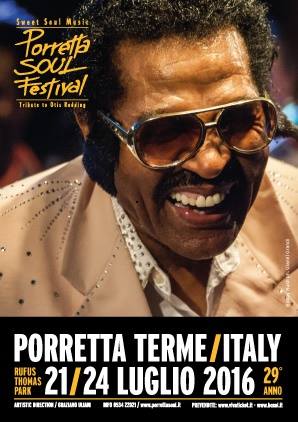 Le programme de l'édition 2016 semble se préciser avec la publication de l'affiche présentant Bobby Rush comme principal invité. Il est évident que nous aurons plaisir à le retrouver d'autant qu'en 2013 nous avions eu le privilège de sa présence lors des mémorables déjeuners du restaurant la Pace.
POUR REGARDER CETTE VIDÉO CORRECTEMENT IL FAUT DÉCONNECTER LE SON DU PLAYER EN HAUT A DROITE DE LA PAGE D4ACCUEIL (BOUTON ORANGE).
TO WATCH THIS VIDEO PROPERLY YOU MUST SWITCH OFF THE SOUND OF THE PLAYER ON TOP RIGHT OF THE HOME PAGE (ORANGE)
Outre les noms déjà annoncés de Théo Huff, Jerry Jones, Toni Green citons la venue de George Mc Crae, connu pour son tube planétaire Rock Your Baby, de John Ellison, anciennement membre de Soul Brothers Six (Some Kind Of Wonderful) de Bruce James et Bella Black (James & Black)
Précisons, par ailleurs, qu'une partie du festival se déplacera les 29 et 30 Juillet à Las Palmas (Grande Canaries) pour le Maspalomas Soul Festival.
Jean-Claude Morlot