Monday, January 20th, 2014
Aprés ses deux participations au Jazzbonne Festival de Valbonne (France) en 2012 et 2013 Toni Green sera présente le 23 janvier aux Biennales Internationales du Spectacle de Nantes avec le groupe français Malted Milk.
After two successful gigs in 2012 and 2013 at the Jazzbonne Festival in Valbonne (France) Toni Green will join forces with the french group Malted Milk on January 23rd in Nantes (France) at the Biennales Internationales du Spectacles.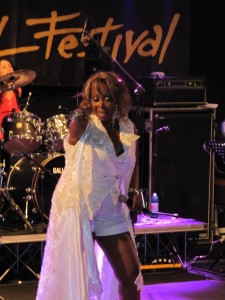 L'histoire raconte qu'il aurait influencé Jimi Hendrix et Buddy Guy et qu'il aurait joué avec Ray Charles, Sam Cooke et T Bone Walker pour n'en citer que quelques uns. Gutar Shorty, ici en photo avec Bobby Rush, est le premier à être annoncé pour apparaitre lors de la 27 iéme édition du Porretta Soul Festival.