Monday, August 5th, 2013
Ce vendredi commença avec l'orchestre de Paul Brown qui officiera tout au long du week end. Quelques classiques (Memphis Train, I can't stand the rain) permirent aux choristes de chauffer la salle avant que le présentateur Rick Hunter annonce Toni Green qui entre en scène tout de blanc vêtue. Le manteau long cache un petit ensemble gilet et short court qui dévoile ses longues jambes. Elle démarre, comme à Valbonne, avec le funky/rock Baby Love. Une surprise lui était réservée à l'issue de ce titre endiablé qui déconcerta un peu les aficionados qui semblaient ignorer qu'il a été créé par Mother's Finest qui s'est illustré au début de sa carrière en étant peut être le premier groupe black de "Heavy Metal" car à son issue quatorze irréductibles fans (dont je fais partie) surnommés «  Lo Zoccolo Duro » (Le Noyau Dur) portant chacun un T Shirt avec une lettre différente pour écrire TO TONI WITH LOVE se levèrent au sommet des gradins pour lui rendre hommage.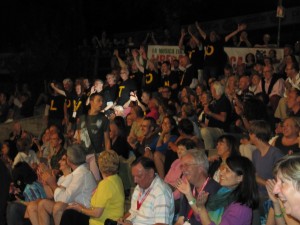 L'émotion était à son comble et les larmes furent au rendez vous. Mais le spectacle devait reprendre ses droits même s'il faut reconnaître qu'il eut quelques moments de flottements durant les enchaînements qui lui permirent de glisser une composition originale Just Ain't Working Out (extraite de l'album Southern Soul Music). S'ensuivit un long changement de robe qui ne dépendit pas de caprice de la chanteuse puisqu'un œil avisé put remarquer à son retour que dans la précipitation la fermeture éclair était à peine fermée ! Force est de reconnaître que le groupe sut remarquablement remplir le long intermède.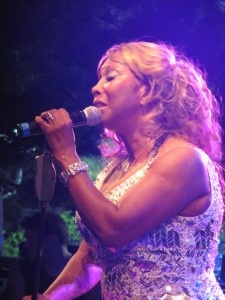 Le show must go on et c'est dans une magnifique robe blanche à sequins qu'elle interpréta une version de I, Who Have Nothing qui força l'admiration du public y compris celle du patron d'Ace Records Tony Rounce. Et tout ceci se termina par le classique de Jackie Wilson Loney Teardrops qui fut conclut par une version endiablée de Shout tandis que le rappel fut consacré à un autre classique de Jackie Wilson Higher and Higher.
Même si elle n'est pas une figure emblématique de la Soul sixties Mitty Collier n'en demeure pas moins avec une poignée de singles pour Chess (My Party, Help Me) comme étant incontournable pour les amateurs purs et durs. Nous étions prévenus qu'elle avait abandonné son répertoire profane pour se tourner vers des horizons plus « spirituels » . Le pasteur Calvin Bridges officiait aux claviers tandis qu'une chorale hétéroclite la supportait. Le prosélytisme l'emporta sur tout sens critique lorsqu'elle fit venir sur scène une femme italienne pour traduire ses propos où elle expliqua que son tube I had a talk with my man était à l'origine I had a talk my God ! Même le public italien pourtant féru de religiosité sembla peu réceptif. C'est dire.
Longtemps demandé, rarement présent sur les scènes européennes à l'exception d'un concert dans un Bataclan quasi désert à l'occasion d'une Mississippi Blues Revue le 29 Juin 1993 prélude à un passage à Vienne, Latimore était l'une des têtes d'affiche de ce festival 2013. La longue chevelure brune à laissé place à une crinière blanche qui témoigne de ses 74 ans. Le temps ne semble pas avoir eu d'influence sur sa puissance vocale comme en témoigne sa version de Something 'Bout 'Cha ainsi que sa longue et émouvante version de Let's Straighen It Out. Sa dernière production étant une suite reprises de titres de Ray Charles, il se devait d'en dérouler certains sans trop s'y attarder pour la satisfaction d'un public qui attendait ses compositions originales. Un rapide Hit The Road Jack ponctua le concert tandis qu' Enchain My Heart concluait un court set d'une heure.
Alors que le son de Miami commence à avoir droit de Cité à Porretta, pouvons nous rêver d'y voir ses figures emblématiques que sont Betty Wright, Gwen & George Mc Rae ou autre Little Beaver.
Texte : Jean-Claude MORLOT
Photos : Barbara GROS-PIRON, Jean-Claude MORLOT