Tuesday, May 24th, 2011
The King of Party Blues n'est pas inconnu de nos lecteurs puisque nous avons déjà évoqué en Septembre 2010 son précédent CD (rubrique Soul Indies). Il nous revient avec une nouvelle livraison qui reprend, puisqu'elle fonctionne dans le chitlin circuit, une formule qui consiste à mélanger titres originaux qu'il écrit avec des reprises Soul et Blues.
Les originaux ne sont que deux Black Cat est parfait dans le registre des titres qui font danser dans les clubs alors que Gone Girl s'inscrit dans le droit fil rythmique de James Brown.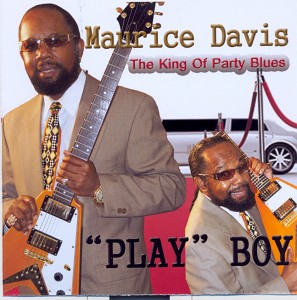 La surprise de ce CD.est qu'une guitare bluesy vient y imposer sa présence. Maurice Davis qui avait déjà enregistré Cold Women de Mack Rice enregistré par Albert King a eu l'excellente idée de retourner aux sources de celui qui doit être son maitre au point d'utiliser la célèbre V Guitar pour le réenregistrer en le renommant Cold Women With Warm Heart . Le son est flamboyant, puissant, aérien et les riffs acérés sont ici respectés à la lettre. Un autre hommage est sa reprise You Gonna Need Me.
Le style oscillant en permanence entre le blues et la soul, il n'est pas surprenant de voir License To Steal (Clay Hammond) côtoyer Got To Give It Up (Marvin Gaye) ou encore le rarissime I Destroyed Your Love (Terry Huff) qui bénéficie d'un étonnant traitement hip hop.
Une paire de titres Malaco (I Could Saved Your Love, Members Only) conclut le recueil.
Maurice Davis a un choix éclectique qu'il interprète vocalement en changeant régulièrement de registre pour pousser jusqu'au falsetto.
Ce CD autoproduit ne donne aucun détail de production ni de musiciens mais la qualité des interprétations et des arrangements donne envie de le voir se produire sur une scène qu'elle soit à Flint (Michigan) ou en Europe.
Jean-Claude Morlot.
Maurice Davis Performing at the 11th Annual Keep On Keepin On Community Afrikan American Festival 2009
Riverbank Park~Downtown Flint,MI