Wednesday, September 22nd, 2010
Tenry Johns est originaire de Shelby, Mississippi où il commença très jeune en montant à l'âge de 15 ans son premier orchestre. Il migre au milieu des années 60 après ses études à Chicago où il rejoint son cousin Johnny Drummer qui bénéficiait d'un réputation locale en tant que artiste compositeur.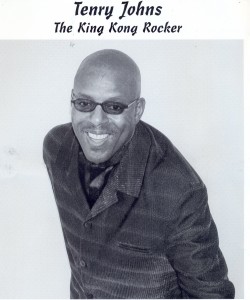 Quelques temps après, il fonde avec ses frères le Johns Bros. Band qui aura la redoutable tâche d'accompagner Denise La Salle ou Bill Coday. Après des années de tournées, il rencontre Harry Glen de Marvel Records avec lequel il enregistre un EP de quatre titres. Il rejoint ensuite le groupe The Notations et devient le leader du groupe Nitro ( à ne pas confondre avec Nytro de Whitfield Records).
A la dissolution du groupe, il décide d'écrire et de produire ses propres compositions. Il publie quatre CD sur son label Tenry Music : In Here Tonight, Need Your Love, So What et Moving on.
So What se distingue par le choc des influences musicales. Party Time, So What, Where's the Love, T.J.'s Groove sont typiques des ambiances sudistes tandis que I wanna Know Your Name flirte avec un soul blues où il laisse la volubile guitare de Max Valideneu s'exprimer. De l'autre côté des émotions Oh baby en recèle des tonnes relents en forme de ballades de Joe Tex à la Hold on to what you've got.

Moving On se démarque un peu en adoptant une démarche légerement differente, même si la frontière entre les deux genres est très ténue, plus orientée vers une Soul à forte connotation blues sudiste. Le changement de guitariste avec l'arrivée de Larry Kucera et la présence plus affirmée des cuivres Darryl C. Thompson (trompette) et John Kaluzny (sax ténor) semblent induire cette inflexion. C'est ainsi que des titres aussi puissants et accrocheurs que Live Your Life, Rockin' In America et I Ain't gonna cheat ressemblent furieusement à Johnny Copeland. Ce qui n'empêche pas notre homme de conserver la verve qu'il doit déployer en club. Avec un peu d'imagination on peut s'imaginer ce que peux donner Move on…Don't Stop en club avec un public majoritairement féminin.
Jean-Claude MORLOT
Photos: Tenry Johns' Courtesy
L'avis de notre correspondant américain Elliott "Enorman" Harris :
CD review "Moving On" Tenry Johns
Maybe starting a review off by comparing the subject of the review to other musicians is somehow not proper it will not stop me here. Two of my favorite Blues singers are Phillip Walker and Grady Champion and Tenry Johns compares very favorable with those two magnificent blues torchbearers. On his latest he starts with the tittle song Move On which is not blues but sounds kinda like a George McCrae, Gwen McCrae type of TK records uptempo Rock Your Baby type joint that sets this record off perfect.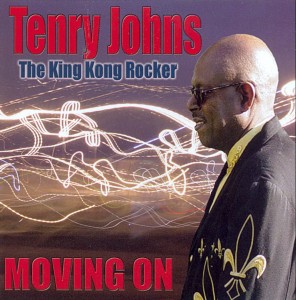 Then comes You Alright with a perfect blues guitar intro (Yes there is that P word again") this song gives volume to the comparison with Walker and Champion also the late Johnny Guitar Watson. All of these men have and had singing styles and voices which set them apart from the others and the average.
Tenry Johns writes and finds strong vehicles for his strength's which are his sense of irony and humor. Being in the Chicago land area there is also no shortage of some of the best players in the blues world and you can hear the quality in every lick, pick, and snare strike.
You feel all of that on What's Wrong, I ain't gonna cheat on you and the chant of You gotta trust me baby is rhythmic charisma that will have you doing what good music make one do when it's hitting all cylinders.Trust me baby!
Get out of that mess is my temporary theme song because seems like something is always going on that ain't as bad as we make it, and we need a pep talk. This is that pep talk (thanks Tenry).
In the past TJ has given us some great music that you should be aware of, and my favorite is a CD called So What which after you rush out and get "Move On" you will be compelled to go out and grab along with Need your Love another very good offering by the former bass player for the The Notations.
Tenry will tell you himself that he is no great vocalist, but he is a great composer of the songs he sings. His feel for what he does is one of comfortable confidence which is clear in his music. So if you think you are stuck with music that does not meet your musical standards cause that is what they play on the radio, then get yourself some real music from a real artist played with real instruments. I guess I'm telling you to "Move On".
Elliott Enorman Harris
(to submit cd for review contact Enorman Harris baddj.enorman@yahoo.com)