Wednesday, March 31st, 2010
Since its inception Sweet Sweetback has been subtitled « An Opera ». Remembering the film, which is the flagship of the blaxploitation genre, it is difficult to imagine how Melvin Van Peebles, who gained success on stage on Broadway in the seventies with plays such as Don't Play Us Cheap, could transpose the subject without a huge amount of money.
After being rehearsed and prepared during the Harlem Apollo Theater Series at Brooklyn's BRIC Arts/Media the World Premiere was offered to France on February 19th and 20th 2010 at Creteil's Maison des Arts (Paris outskirts). This idea could be considered strange if we forget that Melvin spent a few years in France during the sixties writing books and for a legendary satirical publication in French and directing his first movie La Permission (The Story of a Three-Day Pass).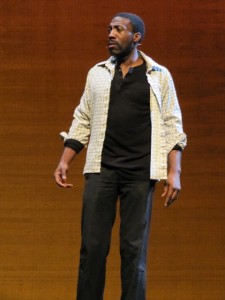 As the curtain reveals a naked stage without any set it is understood that we won't see a traditional opera performed. The left side is filled with a thirteen-piece band Burnt Sugar The Arkestra Chamber under the direction of guitarist Gregory S. Tate since the right side is left empty.
As it is difficult to talk about a transposition, I would prefer to use the word evocation. Certain scenes in which the hero is fighting for his life, here performed by a remarkable actor Jeremiah, are reproduced with the idea of trying to keep the concept of the original piece but it is obvious that some of the torrid ones are toned down. His desperate run, king pin of the film is illustrated by an original idea in the form of a very convincing sort of "moonwalk"!
The few elements of the sets representing a police car or a gun are made with three or four pieces of cardboard that immediately remind us of the zany world of cartoonist Robert Crumb.
But the "piece de resistance" is the music that is so intense with rich arrangements full of sharpness that it sometimes diverts the mind from the action. Despite its forty year old Melvin Van Peebles' universe begun with the album Brer Soul it is perfectly vitalized and the score originally by Earth, Wind & Fire remains contemporary. And to remind the public that people improve with time he went on stage to say a few words of thanks in French.
Text and Photos: Jean-Claude MORLOT
(This review will be published in the British magazine IN THE BASEMENT early May.
Many thanks to Antonia Simone (New York City) for her invaluable help
This two hour Opera along with the complete line-up are available on French/German TV ARTE
at: http://liveweb.arte.tv/fr/video/Melvin_Van_Peebles___Sweet_Sweetback_s_Baadasssss_Song/