Wednesday, September 23rd, 2009
Ce texte en anglais sera également publié dans la revue anglaise IN THE BASEMENT courant Octobre.
This text will be published in the English magazine IN THE BASEMENT in October.

Narni Black Festival, now in its eleventh year, is after Porretta the second most important Soul festival in Italy. Located about 100 kms from Roma, Narni is a medieval city (founded 233 BC) dominated by the huge castle Rocca Albornoz built around 1370. A stroll among the steep paths is a journey into the past as every stone of every wall or house oozes History.
For one week the main place "La Piazzia Dei Fiori" is occupied by a large stage. For obvious reasons and because the first days are only concerned by free gigs including Dick Halligan (a member of Blood Sweat & Tears) or the screening of The Commitments, I will only concentrate on the weekend.
On Friday, the show starts with an Italian backing band, The Soul Spinner, led by Sergio Cocchi who despite a malformation on his left hand is a good keyboard player. Then comes on stage Roy Young. I must confess that I did not know the man except the review of his album "Memphis" in ITB and Willie Mitchell's words ("Who would have thought that a Jamaican born singer, who is living in Tel Aviv, would be the one responsible for saving Soul Music in the U.S.?")From the first notes, the man appears to be a revelation. He has been fed with the sound of the greats (Redding & Pickett) and possesses a powerful voice full of emotion. Surprisingly and contrary to the rules of many festivals, his repertoire consisted mainly of songs from his album and not of the "suggested" usual covers. The rest of the material was Mustang Sally, a surprising Everybody Hurts from REM and to close the set an astounding and full of fire version of Hey Jude.
We are never surprised with Solomon Burke but curiously at the same time we still are because who knows what comes to his mind when he comes on stage.
Except some titles from his new album, the routine was the same. The only surprise was when he asked Roy Young, Toni Green and Melvia Rodgers to join him on stage. As everything looked impromptu, it seemed more like a jam than a few duets on Mustang Sally.
As there was a party with the famous DJ Frankie Knuckles at the castle, the night was still young. I must confess that I went there just to have a look at the inside of the monument and stayed only fifteen minutes.
Saturday was Ladies Night. Toni Green was a bit nervous to open for Dionne Warwick but at the same time was not displeased by the confrontation. Adversity seems to be her engine and once she hits the stage the turbo is on. Her sensuality, her vocal ease to interpret all the great classics (Tell Mama, Neither The One Of Us or A Change Is Gonna Come with her now extension, as she did in Porretta, to The Man In The Mirror) in her way helped her to conquer the public. Watching her eyes, I understood that she was not denying herself!
Ironically, the comparison between the two women was made by itself with Dionne Warwick's appearance. She is considered a diva and I think the public was waiting for one. In fact, she played it asking for photos only during the first song. But as she was wearing a pair of jeans and her hair in a simple bun, she disappointed a lot of her fans. Vocally, she remains a really good singer with a repertoire which, without any surprise with five musicians on programming, including a Stevie Wonder's sample on That's What Friends Are For, was a walk on Memory Lane. As most of the public seemed to enjoy the show, she was not reacting to it in keeping some distance with the edge of the stage and refusing an encore. The audience heard what they wanted to hear but some discordant voices claimed that with her glamour and her presence Toni Green was the queen of the night.
On Sunday, as Toni Green, Melvia Rodgers are born in the city and Roy Young recorded there it was the Memphis Parade.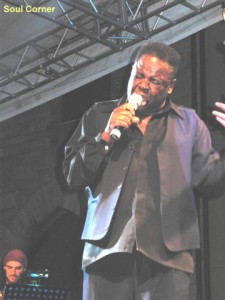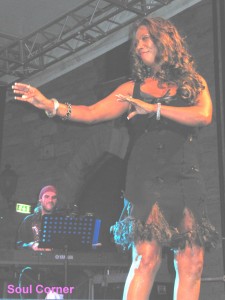 Without surprise Roy gave us more or less the same show as two days ago. Toni in her short black dress had a Tina Turner look and developed the same kind of energy with titles like Just My Imagination or even with Bad Girls where she played herself as a disco queen.
Melvia Rodgers was discrete during the entire weekend. As she sings in I'm a woman "I could make love with a crocodile" she was despite some ego problems backstage willing to eat everybody! On stage, we have discovered a really talented woman with a versatile voice able to change from Aretha Franklin (Natural woman, Baby I love you) to traditional Chicago blues, the city where she lives now, with The thrill is gone or I'll play the blues for you. And the festival ended with a grand finale with the three of them.
But surprisingly, the night was not over with an unexpected party headed at the Communal Theatre and organised by Rosso Bastardo Live (a shop window largely sponsored by a local generous wine grower Luciano Cesarini in order to help young artists, designers, DJs or VJs to prove their talents). As this was spontaneous, we began with only a few with Toni and Roy. Then Soul Spinner joined and so on. Everybody went on stage for a jam as Rosso Bastardo wine was largely tasted and appreciated.
Text and Photos :JCM
In complement, here is a video filmed during the recording of Roy Young's album in company with the legendary Willie Mitchell.
En bonus une vidéo de Roy Young tournée à l'occasion de l'enregistrement de son album en compagnie du mythique Willie Mitchell