Friday, July 25th, 2008
Le samedi est tradionellement jour de grande affluence puisqu'il s'agit du point culminant du festival. Mabel John revint, pour notre grand plaisir, faire un petit tour. Le public attendait avec impatience Otis Redding III (que nous avions rencontré deux jours plus tôt. A ce sujet le compte rendu de ces impressions fera l'objet d'un « post » séparé). Et c'est sans surprise qu'il fut accueilli par une ovation. Il n'est pas un inconnu des amateurs de soul car dans les années 80, il forma avec son frère et son cousin le trio The Reddings qui connut un succès retentissant enregistrant quatre albums et le tube If you feel it. Ce soir là, il n'y eut pas de funk car ce n'est pas la vocation de l'endroit. S'accompagnant à la guitare il rendit hommage à son père en interprétant ses classiques repris en chœur par une audience conquise d'avance.
Charles Wood connu pour avoir écrit Rufus is back in town (hymme quasi officiel de l'événement) fit une bréve apparition saluée comme elle le méritait.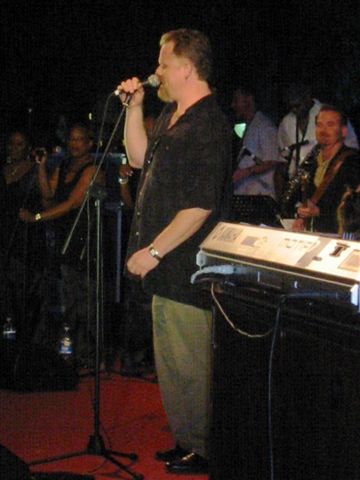 Il faut rendre grâce au boss Graziano Uliani pour savoir dénicher l'exclusivité qui fait la renommée de son festival. Cette année son coup de maître fut d'avoir convaincu Joe Simon qui a abandonné la chanson profane pour devenir pasteur (là aussi, nous y reviendrons ultérieurement). Il entre en scène accompagné d'une escouade de choristes dont le volume pondéral semble proportionnel à l'âge. Vêtu d'une soutane à boutons et liserés rouges qui tient plutôt de la redingote, il semble plutôt en représentation qu'en train d'effectuer un sacerdoce. Qu'importe puisque l'effet est garanti ! Il dissipe rapidement les inquiétudes concernant ses qualités vocales. La puissance et l'émotion sont garanties. Le seul problème est que son répertoire ne comporte pas les titres (Drowning in the sea of love, The choking kind…) qui firent sa gloire. Seule exception A teenage's prayer dont il fit remarquer en conférence de presse qu'il avait modifié les paroles. Le spectacle fut excellent. Mais en forme de corollaire religieux il fit cohabiter satisfaction et frustration.
Sugar Pie De Santo se produisait pour la seconde année consécutive. Nous avons retrouvé la décontraction, la vivacité, la verdeur de langage qui emportent l'adhésion générale. Le spectacle, malgré un age avancé et des articulations qui semblent vouloir rouiller, est toujours un régal. Elle fit venir pour le final tous les artistes présents. Avec sa truculence proverbiale elle réussit à tous les dérider. Le seul à résister malgré des gros efforts fut sans surprise Joe Simon.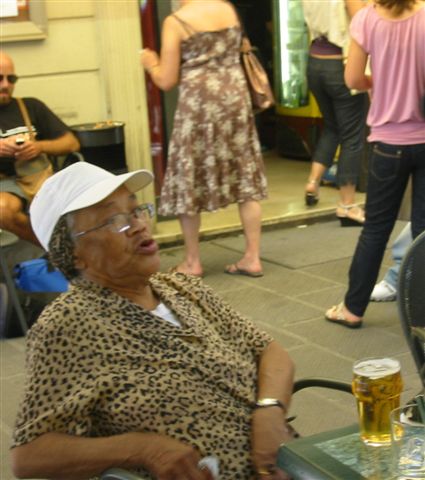 (Sugar Pie De Santo à la terrasse du Roma)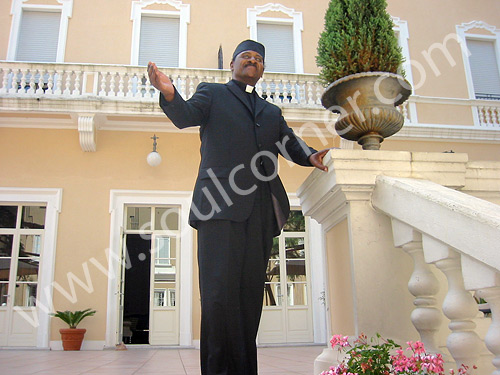 (Joe Simon semble en représentation en permanence puisqu'il a indiqué lui même comment organiser cette photo et la séance qui a suivie)
texts and photos copyrighted JCM via www.soulcorner.com