Sunday, March 18th, 2018
Booker T and The MG's.
Green Onions & Memphis Soul
Par Eric Tessier

Éditions Camion Blanc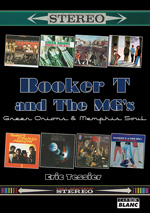 Alors que se multiplient les hagiographies consacrées aux sempiternelles figures de la soul (Brown, Redding, Charles), il est agréable de constater que certains auteurs et éditeurs s'aventurent sur des terrains plus hasardeux. C'est ainsi qu'Eric Tessier propose ce qui semble être la première biographie de Booker T & The MG's.
Après avoir planté le décor de Memphis, ville multiraciale tristement connue pour l'assassinat de Martin Luther King, l'auteur est, bien qu'il s'en défende, obligé de faire l'historique de Stax Records et de toutes ses vicissitudes depuis sa création, de sa domination par Atlantic Records puis de son passage sous la houlette de Paramount & Gulf et Western. Fort d'une érudition pop/rock qui, hélas, laisse libre court à des digressions hors sujet (comme cette étude de la BO du film « Ces Messieurs Trop Tranquilles ») et d'une documentation essentiellement basée sur les travaux de Bob Bowman (Soulville USA et le livret qui accompagne le triple CD Time is Tight) et de Robert Gordon (Respect Yourself), Eric Tessier décortique méthodiquement chaque album dont Uptight, enregistré à Paris et qui fut pour Booker & The MG's l'occasion de se produire au Bibelot (prestation diffusée sur La Deuxième Chaîne Couleur qui deviendra par la suite Antenne 2 dans la soirée Surprise Partie du 31/12/68).
Le concert de la tournée Stax à l'Olympia est largement romancé au point d'en oublier l'anecdote majeure – et que seuls les témoins d'alors connaissent – qui est qu'à la surprise générale le public découvrit avec stupeur que Steve Cropper était… Blanc ! Puisqu'il n'y avait pas de photos sur les pochettes des albums à l'époque. Certains épisodes sont également fictionnés comme l'assassinat d'Al Jackson et il assez surprenant de constater qu'aucun des acteurs de l'aventure Stax – que ce soit Wayne Jackson, Steve Cropper, Ben Cauley, Joe Arnold, Andrew Love, John Gary Williams et même Booker T lui-même – n'aient été rencontrés, alors que certains viennent ou venaient en Europe.
Enfin, et malgré ces réserves, cette somme de 400 pages sans aucune illustration se lirait agréablement comme une saga ancrée dans la dure réalité de son époque avec son corollaire de tension raciale si elle n'était pas parsemée d'un humour potache avec comme exemples les deux extraits suivants : « un amateur de pastiche n'est pas un alcoolique auvergnat » et « Donald Duck Dunn n'était pas en studio, peut-être était-il en train de garder Riri, Fifi et Loulou ? ».
Pour conclure, laissons à l'auteur la responsabilité de son propos lorsqu'il évoque le « Melting Pot » américain : « Gardons à l'esprit nos propres fumisteries comme ces "Liberté, Égalité, Fraternité" qui ornent les frontons de nos édifices publics et auxquels ne croient que ceux qui n'en bénéficieront jamais »…
Jean-Claude Morlot