Monday, November 30th, 2020
Eddie Kold Band
Chicago Alley Blues
L&R Records 582927/Bellaphon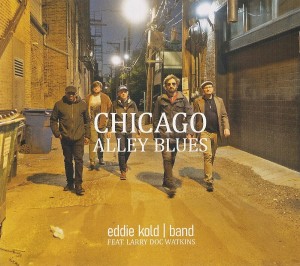 Originaire de Cologne (Allemagne), Eddie Kold en enregistrant cet album en Octobre 2019 à Chicago renoue avec l'habitude prise pour son premier album Chicago Blues Heaven , Son fidèle acolyte afro-américain Larry Doc Watkins (né le 19/07/53 et accessoirement pour la petite histoire neveu de Jimmy Johnson) assure la plupart des vocaux sur des titres originaux qu'il a composé dans la plus pure tradition du style de la Windy City tandis que Too Hot issu de la plume d'Eddie Kold lorgne du côte du british blues sixties,
La présente livraison a pour particularité la présence de nombreux invités dont Bernard Allison, qui en digne fils de son père Luther manie la guitare avec dextérité (Blues Man enregistré à Cologne en 2019 lors d »une tournée), L'harmoniciste Omar Coleman et le guitariste Tom Holland s'illustrent sur deux reprises Before You Accuse Me et Howlin' For My Baby à l'accompagnement survitaminé à la manière de Chuck Berry, A signaler également la présence de Charlie Love sur Gimme Back My Money.

Jean-Claude Morlot
I like the way the songs have a traditional feel to them, with a couple of the songs having an up to date theme to them. "Too Hot" is a song dealing with climate change and "Smart City Blues" is about surveillance on the internet. I loved the guitar of Tom Holland on Bo Diddley's "Before You Accuse Me" and Omar Coleman's harmonica playing. The laid back feel of "Just A Dream" is very well handled by the band.
"Suicidal Blues" has a very hypnotic feel with an engaging piano played by Millie Meckback keeping the hypnotic beat going, with some really nice laid back blues guitar from Eddie. "Blues Man" a tale of the life of a modern Blues artists features "Bernard Allison playing some very nice melodic guitar. "Gimme Back My Money" written and sung by Charlie Love is great.
Overall a good album with some great guests helping Eddie achieve a very creditable Soulful Blues album.
Dave Thomas